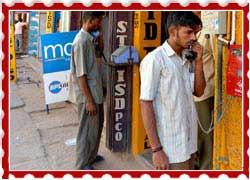 Karnataka boasts of a robust communication infrastructure that connects most of the major cities and popular tourist locations. Apart from ubiquitous modes of communication like telephones and post, Internet penetration is also quite high, particularly in urban centers.
Across the length and breadth of the state, one can witness a proliferation of public telephone booths known as PCOs. These PCOs provide both local and STD/ISD call facilities at rates fixed by the government. Mobile phones have also caught up in a big way with a number of private and government agencies providing services.
The Karnataka state is characterized by a high Internet literacy rate, which can be ascribed to the thriving IT industry in the state. Cyber cafes have mushroomed in major cities of the state and they provide broadband connections at a nominal rate.