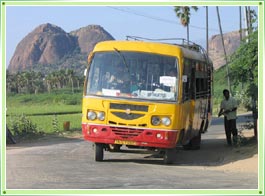 Reaching Calicut is very simple as this beautiful city is easily accessible by air, railways and road. If you are traveling to Kozhikode, the information given will be definitely useful for you. Calicut is also known by the name of Kozhikode and most people in Kerala call this place as the latter. So read on further to know how to reach Calicut and know more about getting to Calicut.
By Air
The Calicut Airport is located at Karipur, which is located almost 27 kilometers southeast of the city. There are regular flights from Calicut to other states in India like Chennai, Mumbai, Delhi, Goa and also some other countries like Sharjah, Dubai, Abu Dhabi, Kuwait, Bahrain, Doha and Muscat. Other airports that are located almost near Calicut are at Cochin and Mangalore.
By Rail
The railway station at Kozhikode is located around 16 kilometers from the place and Calicut can be easily reached once you reach the station. There are a number of local as well as inter-state trains that halt at the Calicut station.
By Road
Calicut is connected by a wide network of roads and this place can be reached from anywhere in Kerala and from the neighboring states.