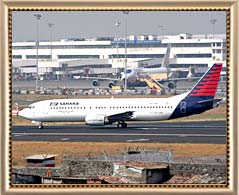 Mumbai is one of the busiest as well as most populous metropolises of India. The 'Commercial Capital' of India, this city is located on the western coast of the country and has a deep natural harbor. Mumbai was earlier known as "Bombay'. However, this name was changed to the present one in the year 1995. Being the capital city of Maharashtra and home to India's main film industry 'Bollywood', it holds a great degree of significance. The city is so vast and so diverse that it is impossible to explore it fully in a single visit.
Since Mumbai holds so much importance and is visited by such a large number of people every year, it is well connected with the other major cities in India as well as the world. Connecting the city by air are its two airports, Chhatrapati Shivaji International Airport and Santacruz Domestic Airport. One of the largest airports of the country, Chhatrapati Shivaji International Airport get the maximum international traffic and handles upto 45 landings and takeoffs per hour. Given below is information on the airlines and cheap flights from Mumbai.
International Carriers
The following international airlines operate to and from Mumbai from the other countries of the world.