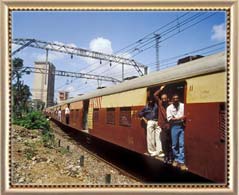 Local trains form the lifeline of the Mumbai city. Majority of the population living in the city travels by the local trains, making it an essential part of the public transport system. Mumbai Suburban Railway System comes under the Western and Central zones of the Indian Railways. As per rough estimates, as many as 6.1 million passengers commute on the local trains, or locals, of Bombay on a daily basis, making up almost half of the total daily passenger capacity of the Indian Railways in itself.
The Suburban Railway System of Mumbai is the oldest railway system in Asia, which witnessed the first train in the continent running between Mumbai and Thane in the year 1853. It is counted amongst the most complex and most used public transportation systems in the whole world. The total track length of the Bombay Suburban Railway System is over 303 km. operating over a power supply of 1500 V DC; the system basically runs on the Electric Multiple Units (EMUs), supporting over 2067 train services.
Zones and Corridors
There are two main zones of the Mumbai Suburban Railway System - the Western Railway (WR) and the Central Railway (CR). The fast corridors on both the zones are used for the purpose of long distance (main line) as well as freight trains.
Western Line
There are two corridors on the Western Zone, which go from the Churchgate terminus till Dahanu Road - covering a distance of 120 km. Commonly known as the Western Line, these corridors have stoppages on the main stations, comprising of Churchgate, Mumbai Central, Dadar, Bandra, Andheri, Borivali, Mira Road, Bhayander, Vasai, and Virar. The fast trains stop at these stations only, while the slow trains have more stoppages. There are EMUs running on Alternating Current (25 KV) as well as Direct Current (1.5 KV) on this line.
Central Line
The Central Line of Bombay comprises of 3 corridors, two of them being on the Central Railway. These two corridors form the Main Line and run from Chhatrapati Shivaji Terminus (CST) to Kalyan, covering a distance of almost 54 km. This line has been given the name of 'Central Line' and just like the Western Line, it has both EMUs running on both Alternating Current and Direct Current. The main stoppages of the fast local trains on this line are Byculla, Dadar, Kurla, Ghatkopar, Vikhroli, Bhandup, Mulund, Thane, Dombivali and Kalyan.
Harbour Line
Harbour Line comes under the Central Railway zone and has a single train corridor. It runs from the Chhatrapati Shivaji Terminus (CST) till Panvel, covering Andheri and Thane on the way. This line has two separate platforms on the Chhatrapati Shivaji Terminus (CST), from which it operates. A major portion this line, covering Sandhurst Road to Reay Road, Reay Road to Sewri and Wadala Road to Mahim Junction, is elevated. As many as 29 train services operate in both the direction, on the Harbour Line.