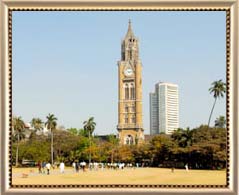 As per the records available on the history and origin of Mumbai, the native population of the city comprised of Kolis, the fishermen community. The patron deity of the Kolis is Goddess Mumba Devi and the name of the city has been derived from the name of the Goddess itself. The seven islands that form the city of Bombay today were initially seven different provinces, ruled by several Hindu dynasties of India. In the 14th century, these islands faced invasions from the Muslim rulers.
It was in the year 1534 that the islands were handed over to the Portuguese colonialists by Bahadur Shah, the Sultan of Gujarat. The biggest island amongst these further exchanged hands when it was included in the dowry of Princess Catherine de Braganza of Portugal, when she married Prince Charles II of England. However, by 1665, all the seven islands that constitute Mumbai came under the control of the British Government and were further leased to the East India Company in 1668, for an annual rent of 10 pounds.
The company then encouraged Gujaratis, Parsis and South Indians to come and settle down in Mumbai, by offering them land grants and religious freedom. Since these people were very much desperate to escape the religious oppression of the Portuguese, they welcomed the offer and settled in the city. With time, the port city developed and progresses so much that in the next 20 years, the Presidency of the East India Company was moved from Surat and established here only.
The decade of 1720 saw the British constructing the Bombay Fort and carrying out land reclamation to link all the seven islands and form a single piece of land. Mumbai also became the venue for the first railway to be constructed in Asia in the year 1853, which ran from Bombay to Thane. In 1869, the Suez Canal was inaugurated and this event contributed a lot to the progress of the city. Mumbai also became a part of the freedom struggle of India, when the first Indian National Congress was held here in 1885.
After the first war of independence was witnessed in India in 1857, British Crown took back the city from the East India Company. It was here only that the Quit India Movement was launched in 1942. India attained independence from the British rule in the year 1947 and after this; Bombay became the capital of the so called 'Bombay Presidency. Later the presidency was divided into the states of Maharashtra and Gujarat. Through the years, the city continued to be known as 'Bombay' only. It was in 1996 that it was officially renamed as 'Mumbai'. Today, Mumbai is the one of the most popular and the most visited cities of India.