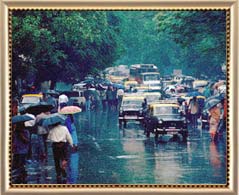 Mumbai, the 'Commercial Capital of India' is situated near the Arabian Sea. It is this proximity that makes the weather of the city humid through major parts of the year. That does not mean that Bombay does not have its share of the pleasant climate. The months of October to February, with their cool breeze and blue skies, serve as a welcome change from the high humidity usually prevalent in the city. The weather of Mumbai can be categorized into three main seasons, namely summers, winters and monsoon. Given below is more information on the climate of the city.
Summer Season
The summer season in Mumbai usually lasts from the month of April to that of June. During this time, the humidity as well as the temperature is quite high. The average maximum temperature in the summers hovers somewhere around 30 deg C. During this time, a lot of sweating takes place, which may lead to dehydration. So, drinking lots of water is advised.
Monsoon Season
The monsoon season, which lasts from June to September, drenches Bombay in rain and brings a welcome relief to its people. The average rainfall received by the city during this time is somewhere around 2,200 mm. The humidity levels are at their peak during this time and it is not an ideal time to visit the city.
Winter Season
The best time to visit Mumbai is during the winter season, which stretches from November and lasts till February. During this time, the weather conditions are at their best, with both the humidity and the temperature at moderate levels. The cold Northerly Winds blowing through the city bring a chill that is welcomed by its people.