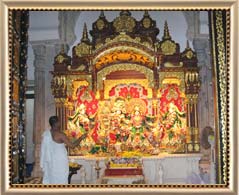 Situated near the magnificent Juhu Beach of Mumbai, the ISKCON Temple sprawls over an area of approximately 4 acres. Also known as the 'Hare Rama Hare Krishna Temple', it is counted amongst the most popular and most-visited temples of the city. Standing tall with all its magnificence, the temples serves as the perfect acknowledgement of the efforts of Srila Prabhupada, towards the propagation of Krishna Consciousness throughout the world. He built this temple at Juhu, when the locality was nothing more than a remote suburb.
Today, the fame of the Iskcon Temple has spread so much that, on an average, it receives approximately three lakh pilgrims on the occasion of Janmashtami celebrations. On a daily basis, the temple receives somewhere around five thousand visitors, whose numbers further increases to over ten thousand on Sundays. Hare Rama Hare Krishna Temple of Bombay serves as the perfect retreat for people, where they come to escape from the hectic and demanding city life.
Dedicated to Lord Krishna, the temple was inaugurated in the year 1978. Its complex comprises of a huge sanctum sanctorum, a modern auditorium, a book publishing house, a restaurant, and a twin towered six-storied guest house for the visitors. One of the best ways to spend time at the ISKCON Temple is to take part in the mediations and chanting of mantras. It will help you in ridding your mind of all the mundane tensions and connecting with the God on a much more spiritual level.
History
The first time Srila Prabhupada saw the land where Hare Rama Hare Krishna Temple is situated was when he was going to Smt. Morarjee's house. During that time, the land was nothing more than a jungle. He liked the land so much that he prayed to God that if ever he would be able to get this land, he would build a beautiful temple there. By God's grace, the same land was offered to International Society for Krishna Consciousness (ISKCON) in the year 1971. Thereafter started the construction of Iskcon Temple and it was inaugurated on 14th January 1978 (the day of Makar Sankranti).