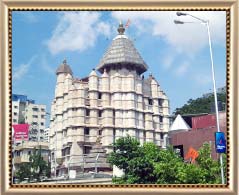 Shree Siddhivinayak Temple of Mumbai is counted amongst the most venerated temples of India. It is dedicated to Lord Ganesha, the Elephant God, and is situated in the Prabhadevi locality of the city. The credit for the construction of the temple goes to Vithu and Deubai Patil. Built in the year 1801, Shree Siddhivinayak Ganapati Mandir is visited by people belonging to almost all the sects of the society.
The temple comprises of a small mandapam (hall), where the idol of Siddhi Vinayak (Lord Ganesha) has been enshrined. Boasting of exquisite architecture, the sanctum sanctorum has been fitted with wooden doors that have been meticulously carved with the images of the Ashtavinayaka (the eight manifestations of Lord Ganesha). Its inner roof has been beautifully adorned with gold plating.
Inside the sanctum is placed the central statue of Lord Ganesha. The idol portrays the Lord with four arms, carrying a lotus, an axe, modakas (sweet dumplings) and a garland of beads, respectively. The upper floors of Shree Siddhi Vinayak Temple of Bombay comprises of the residential quarters of its priests. Though the temple remains crowded throughout the week, it receives exceptional rush on Tuesdays.
Siddhivinayak or Lord Ganesha holds a very important position in the Hindu mythology. It is believed that any new work, new place or new possession will prosper if one prays to the lord before starting or using it. This is one of the main reasons why renowned people, including politicians and celebrities like Aishwarya Rai, Amitabh Bachchan, Sachin Tendulkar and Bal Thackeray, regularly visit the temple.
One of the narrow lanes that lead to the premises of the Shri Siddhivinayak Temple is known as the 'Phool Gali'. The street remains dotted with a large number of stalls, where one can find shopkeepers selling tulsi flower garlands, coconuts, sweets, etc - to be offered to the Lord. The temple witnesses exceptionally large rush of devotees, during Angaraki and Sankashti Chaturti. Whenever you happen to visit Mumbai, make sure to pay a visit to this amazing shrine.