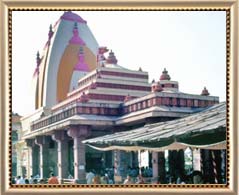 Mahalaxmi Temple is one of the popular Hindu Temples in Mumbai, dedicated to the three shaktis - Goddess Lakshmi, Goddess Saraswathi and Goddess Kali. It is situated on the Bhulabhai Desai Road, on the northern side of the Malabar Hills. The picturesque location of the temple, along with the reverence attached to it, lures devotees from far and wide. Locals as well as tourists throng the Mahalaxmi Temple of Bombay in large numbers, bowing before the deities and praying for happiness and prosperity.
Apart from the exquisite idols of the three presiding deities, the temple also enshrines the images of several Hindu goddesses. However, the idols of the three Goddesses have been molded in gold. Further beautifying the magnificent images are brilliant pieces of jewelry, comprising of nose rings, gold bangles and pearl necklaces. The idol of Mahalakshmi, shown riding a tiger and a demon (Mahishasur), is the best of all.
One of the oldest temples in the Mumbai city of India, it was initially constructed on a creek that separated the island of Mumbai from the Koli island of Worli. However, after the Hornby Vellard was completed in the year 1784, the creek was filled. It was then that the present day Maha Laxmi Temple came up at the site. The gate of the temple has been adorned with elaborate embellishments and beyond it is the sanctum that enshrines Lakshmi, the Goddess of Wealth.
One of its most fascinating features is its grain-strewn courtyard, where one can see flocks of pecking grey pigeons. The festival of Navratri sees the maximum rush inside the premises of the Mahalaxmi Temple of Mumbai. During this time, the temple is beautifully decorated and the idols are dressed in the most brilliant of clothes and jewelry. Apart from this, the temple also witnesses heavy crowd during weekends.