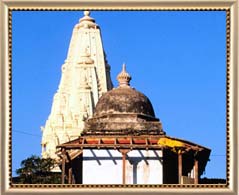 Walkeshwar Temple is a revered Hindu temple, situated on the Malabar Hill neighborhood, in South Mumbai. It is dedicated to Lord Shiva, one of the Hindu Trinity of Gods. The temple, as well as the fresh water Banganga Tank situated near it, dates back to the year 1127. The credit for its construction goes to Lakshman Prabhu, a minister in the court of Silhara dynasty Kings who used to rule over Thane, along with the islands of Bombay. However, during the rule of Portuguese over the city, Walkeshwar Temple underwent great ruination.
The renovation and reconstruction of the temple was undertaken in the 1715, under the patronage of Rama Kamath (a Gaud Saraswat Brahmin), who was a businessmen and philanthropist living in Mumbai. As per the British records, he is known as 'Kamati'. The present structure of the temple is not the one constructed by Kamath. It comprises of very few features of the original complex and was again rebuilt in the 1950s. With time, many smaller temples came up in the vicinity of the Walkeshwar Temple, around the Banganga tank.
Since the temple is situated close to the tank, it is at times known as Banganga Temple also. Though the temple is usually visited by a large number of people on a daily basis, it witnesses exceptionally high rush on the full moon day (purnima) and no moon day (amavasya) of every month. The Malabar pirates who used to come to the island of Mumbai during 16th and century also used to pay a visit to the Walkeshwar Temple. Apart from being a revered pilgrim destination, the temple is also popular for its exquisite architecture.
Festival
The Banganga Tank, situated in the Walkeshwar temple, serves as the venue of a Hindustani classical music festival. It is organized by the Maharashtra Tourism Development Corporation (MTDC) every year, in the month of January. In this festival, one can be a witness to performances by virtuosos as well as amateurs in the field of music. Live musical performances and concerts held here attract locals as well as tourists to this sacred place.
Legend
The legend associated with the Walkeshwar Temple of Maharashtra goes that Lord Rama came to this place when he was searching was his wife, Sita. He stopped here and was advised to worship Shinlingham. He asked his brother, Lakshman, to bring an idol for the same. However, when Lakshman took too much time, the Lord constructed the original lingam of sand and started worshipping it. This is why the name of the temple was kept Walkeshwar, after Valuka Iswar (meaning Lord of Sand).