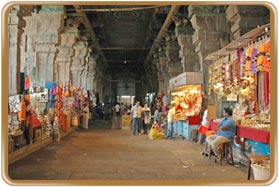 Madurai may not be shoppers' paradise, but here you can spend your time looking around the market and just chilling out amidst the colorful chaos of the marketplace. The hustle and bustle of the market packed with myriad of people jostling about over things they love to haggle.
Indeed shopping in Madurai can be a fun. Plan a visit to Prithu Mandapam Market that is a famous market in Madurai, based just inside the eastern entrance of Meenakshi Temple. Here you can buy cotton and batiks, for which Madurai is famous. You can sit back on the Pottramarai tank and let the essence of Maduari seep in you.
Madurai has also been a textile centre for long. Here skilled tailors can reproduce your dress with cottons and printed fabrics at Puthu Mandapam. You can also visit the government Poompuhar Handicrafts shop, the Cottage Arts Emporium and the Madurai Gallery for hand-woven silks and cottons, bell-metal lamps, bronze images, wood and stone carvings.