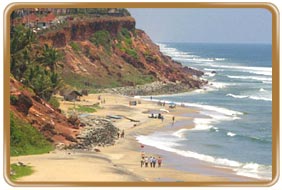 Tirunelveli is one of the most visited tourist destination in Tamilnadu. The place boasts off some of the well-preserved temples built by Pandayas rulers. The place also has some of the natural wonders in its surroundings that attract domestic as well as foreign tourists. Following are some of the most favored and most visited tourist attractions in Tirunelveli: -
Sankaran Koil
Sankaran Koli is situated 56 kilometers North of Tirunelveli. The place is famous for the Chariot Festival in Adithabasu Vizha that is celebrated in the month of July. Lacs of people flock to this place on this occasion.
Kutrallam
Kutrallam, which is popularly called the "Spa of the south", is situated at an elevation of about 170 m high, on the Western Ghats. This is not only a tourist spot but also a health resort. The waterfall has medicinal properties to cure physical ailments.
Papanasam
Papanasam is located 60 kilometers from Tirunelveli. The famous Shiva temple is located at the bottom of Western Ghats that is very near to the origin of the River Tambraparani. The place is also famous for the Chitrai Vishu festival that is celebrated in the month of April when lacks of people congregate here.
Thiruchendur
The shore temple here is one of the six abodes of Lord Subramanya and the only one of them to be built on an unalleviated stretch of land. Thiruchendur is believed to be the place where Subramanya offered prayers for his victory. The Skandasashti festival is celebrated in November every year that is attended my scores of devotees.
Manappad
Manappad is famous for a 400-year old Holy Cross Church that contains some of the fragments of the True Cross from Jerusalem. It is one of the few churches in India that is associated with St. Francis Xavier.
Thuthukudi
Thuthukudi is one of the major ports in the India. Thuthukudi was at one time known for its pearls and was one of the most prosperous cities on the coast. It is still a major pearl fishing center in India though the city has lost much of its splendors.
Mundanthurai Wildlife Sanctuary
Although this sanctuary is a Project Tiger Reserve you are likely to sight other animals like the leopard, sambhar, sloth bear and the chital apart from a wide variety of Indian primates including the bonnet macaque, common langur, Nilgiri langur and lion-tailed macaque.
Agasthiyar Temple and fall
This temple adjoining the falls named Agasthiyar falls is one of the most visited tourist spot in the city. The place can be reached through a 3-hour trek.
Kalakadu Wildlife Sanctuary
This sanctuary is very popular with botanists and ornithologists as it has a great variety of fauna and bird life. Among the animals that roam here are tiger, panther, jackal and wild dogs while reptile population includes cobra, python and several other snakes.
Kunthakulam Bird Sanctury
It is situated 33 kilometers south of Thirunelveli. Kunthakulam is actually a small and natural scenic village. This village is covered with natural forest and ponds. During winter every year more than 10 thousand birds from various countries like Pakistan, Myanmar, Sri Lanka and Australia migrate here.
Bharathar Ovari
Bharathar Ovari is a Roman Catholic Center where one can visit an ancient church. The annual carnival is celebrated for ten days in the middle of January when lacks of pilgrims congregate here.