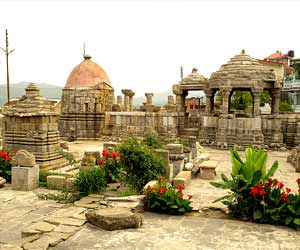 Champawat is small district in Uttarakhand state located near Pithoragarh and named after King Arjun Deo's daughter 'Champawati'. It is known for being the erstwhile capital of the famous Chand dynasty of Kumaon. As per a legend, the place has mythological importance as well. It is said that Lord Vishnu once appeared in Champawat, in his Kurmavatar. The place is famous for its historical, archaeological and sculptural significance. A small fort and the temples of Baleshwar, Champadari, Ratneshwar and Durga embellish the city.
There are numerous famous temples situated near Champawat, like Narsinh Danda, Hingla Devi, Hidimba Ghatotkach Temple, Maneshwar, Karanteshwar and Sun Temple (at village Ramak). Other than this, the area is known for the magnificent scenic vista it offers. Situated at 1,615 meter above the sea level, Champawat boasts of a topography that varies from Terai areas to the high mountain ranges.
The Terai areas of the district are very hot, whereas the hilly ranges are relatively cooler. Around 65 percent area of Champawat is sheltered with flora and fauna. Rest of the areas is made up of agricultural land, residential land and meadows. The plains of Champawat are covered with plenty of exotic and traditional species of plants, like Amla, Ayur, Ecliptus, Babool, Teak, Sagon, Jamun, Bans, Bail and Madar.
Abbot Mount
This beautiful hamlet of Abbot Mount is situated approximately 8 km away from Lohaghat, in the Champawat district of Uttarakhand. A less exploited destination, it is very calm and serene region, far away from the maddening crowds and hullabaloo of cities.
Tourist Attractions
Baleshwar temple, was built during the reign of Chand dynasty, is located in the heart of Champawat city. The presiding deity of this temple is Lord Shiva. The temple is known for its magnificent stone carvings.
Lohaghat
Lohaghat is located within Champawat district of Uttarakhand state in India. It is a quiet little hill station, blessed with natural beauty in abundance. Situated at an elevation of 1645 meters above the sea level, Lohaghat is often referred as one of the most scenic places in Uttarakhand.
Tanakpur
Tanakpur is a quiet little town located on the edge of Tarai areas of Champawat district in Kumaon within the hill state of Uttarakhand in India. Tanakpur is just 3 Km away from the Indo-Nepal border.
Weather
The weather of Champawat is largely influenced by its varied topography that includes mountain ranges, large valleys, uneven landscapes, broken cliffs, rivers and rivulets. Also influencing the weather is Champawat's varying altitude that ranges from 200-2200 meters above the sea level.