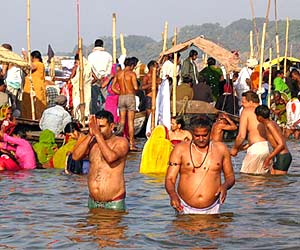 Like other parts of India, the people of Uttarakhand too celebrate a number of festivals all the year round. Since most of the population resides in rural areas, many festivals are related to the land and soil. These festivals promote bonding between the residents of the hills and preserve the local folk art and culture. When transport facilities were not available in the past, these festivals played an important role in family gatherings.
Some of the festivals celebrated in the Uttarakhand region are Basant Panchami, Bhitauli, Harela, Phool Dei, Batsavitri, Ganga Dusshera or Dasar, Dikar Puja, Olgia or Ghee Sankranti, Khatarua, Ghuian Ekadashi, Chhipla Jaat, Kandali, Janopunya, Kumaon Holi (including Khari Holi and Baithaki Holi) and Makar Sankranti (Ghughutia). These festivals provide a sense of uninhibited joy and a whiff of unsullied air recharging them.
Festivals like Kandali have a special significance. It is celebrated by the Bhotiya tribe of the Pithoragarh, which coincides with the blooming of the Kandali plant, which flowers once every twelve years between August and October. Kandali last blossomed in 1999 and next celebration will be held in 2011. Chhipla Jaat on the other hand, has people undertaking a five day barefoot journey every three years to Chhipla Kedar as a means to express different aspects of human faith. These are just the two of them, read about the rest of them in this section.
Basant Panchami
A festival not only gives a welcome break but also adds colors to our life. Basant Panchami is the festival celebrating spring season which comes accompanied by a huge variety of flowers presenting a riot of colors to the environment.
Bhaitauli & Harela
The people of Uttarakhand have great enthusiasm for their festivals. Harela is curiously a Kumauni festival celebrated to mark the beginning of the rainy season or the monsoon. The celebration falls on the first day of Shrawan
Ganga Dussehra
Ganga Dusshera is celebrated in Uttarakhand with lot of enthusiasm. This festival starts on the tenth day of Jaishtha (May-June) according to the Hindu calendar. It begins on the Amavasya night (dark moon night) and continues till Dashami tithi or the tenth phase of the moon.
Makar Sankranti
Sankranti or Sankrant is derived from a Sanskrit word meaning 'to move' and usually symbolizes a harvest festival not only in India but in many South-East Asian countries as well. Makar Sankranti is one of the major festivals of the Indian subcontinent.
Phool Dei
The land of Uttarakhand is known for numerous fairs and festivals. All the festivals celebrated here have an immense deal of ceremonial grace and magnificence. Both the festivals of Phool Dei and Olgia/ Ghee Sankranti have a relation with nature