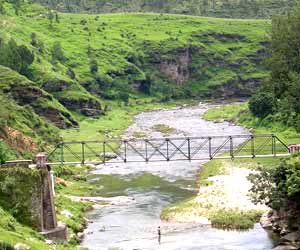 Kausani, situated in Bageshwar district of Uttarakhand, is an idyllic travel destination for those who want to enjoy calm, quite and peaceful holidays, away from the hubbub of cities. It is located at an altitude of approximately 1890 meters above the sea level and is basically known for its scenic splendor and historical links. This picturesque hill top offers a spectacular 300-km panoramic view of the majestic Himalayas. The calmness and serenity in the atmosphere of Kausani is charismatic enough to keep you mesmerized for hours.
Set amidst dense pine forests, with a panoramic view of Someshwar valley on one side and Garur and Baijnath Katyuri valley on the other, Kausani is a captivating location for the admirers of scenic splendor. The place is unparallel in terms of raw and unscathed beauty. The less polluted air and salubrious climate of the place makes it an ideal destination for those want a break from the choking atmosphere of cities. Due to its similarity with the landscape of Switzerland, Mahatma Gandhi gave Kausani the name of "The Switzerland of India".
The tranquil and placid hamlet of Kausani, located amidst dense forests and lofty mountains, offers tourists interesting trekking opportunities as well. It is the distinct landscape and beautiful atmosphere of the place, along with varied flora and fauna, which makes it an ideal trekking location. Sunder Dhunga Trek, Milam Glacier Trek and Pindari Glacier Trek are some of the most treks near Kausani. Leave about trekking, even a long and peaceful walk in the dense forests of Kausani is immensely refreshing and rejuvenating.
There are various interesting places worth visiting in and around Kausani. If you are in the hill resort, make sure to visit Anashakti Ashram, Pant Museum, Lakshmi Ashram and Tea Gardens. Anashakti Ashram also offers a wonderful guest house to the tourists. The birthplace of great poet Sumitra Nandan and the land of Gandhi's experiments with Anashakti Yog, Kausani indeed has an intellectual aura about it. Its tea gardens are known for producing special organic orthodox, while its environs are acclaimed for offering un-spoiled beauty.
Kausani Tourist Attractions
Kausani is the perfect destination for those tourists who want to enjoy the beauty and serenity of nature. A picturesque hill station, it located at an altitude of approximately 1890 meters from the sea level, in the Bageshwar district of Uttarakhand. This place is renowned for its scenic splendor and the spectacular, 300-km panoramic view of the majestic Himalayas, it provides.
Places to See Near Kausani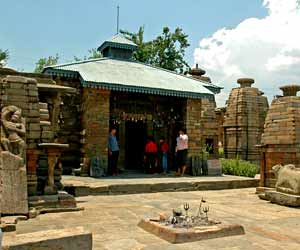 Apart from being a fabulous travel destination in itself, Kausani also serves as a base to a number of wonderful excursions as well. The famous hill-tops like Nainital, Almora and Ranikhet make excellent excursion options from the town. Kausani also proves as a great base for the Pindari and Gafri glaciers.
How to Reach Kausani
Known for its scenic grandeur, tea gardens and Anashakti Ashram, Kausani is a beautiful hill-top situated in the Bageshwar district of Uttarakhand. Situated 1890 meters above the sea level, this place provides mesmerizing views of sunrise, above the Himalayas. It has exclusive reserve of nature's serenity and greenery.
Things to Do in Kausani
Nestled amidst the mesmerizing Kumaon hills of Uttarakhand, Kausani is a place relatively unknown to the tourists. This is one of the main reasons behind its immaculate beauty and still-intact charm. Perched at an altitude of around 6,075 feet above sea level, this quaint hill station is the perfect place to feel one with the nature, whether it is through going on treks or simply lazing around amidst the natural splendors.
Kausani Weather
Enclosed amidst beautiful pine, oak and deodar forests, and providing an enchanting view of the mystic Himalayas, Kausani is a place which you must visit on a trip of Uttarakhand. The fresh, unpolluted air from the serene and unscathed atmosphere of Kausani is enough to refresh your body and soul from the hullabaloo of polluted cities.
Shopping
Kausani is often equated with Darjeeling because of the high quality tea produced here. Buying some packets of tea produced here is a must for every tourist. The tea gardens here are mostly those of Girias Uttaranchal Tea.