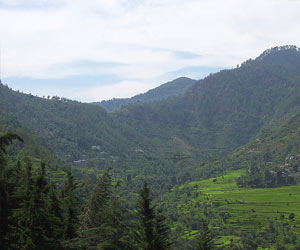 Pithoragarh, located at an elevation of 1, 635 m above the sea level (5, 396 feet), is a district in Uttarakhand with its headquarters in the town of the same name. It is positioned in the centre of the western half of Soar Valley which bears a resemblance to the Kashmir valley on a small scale. Pithoragarh is known as the gateway to the Himalaya's from the north, as pilgrims trek through this town to the Kailas Lake in Mansarovar and Om Parvat. Pithoragarh has been expansively explained in a novel by American author Bradley Swift titled 'From Pithoragarh to Pittsburgh'.
Pithoragarh is a lovely place to begin your tour of the Himalayas. The valley of Pithoragarh has all that you would like to see snowcaps and glaciers, lakes, bubly rivers, dense conifer forests, and grassy alpine meadows. About one-third of Pithoragarh is perpetually covered by snow. It is comfortable to visit all round the year. One can enjoy a slew of adventure sports in Pithoragarh like hang gliding, paragliding, trekking, skiing, canoeing, river rafting and fishing.
History
The lineage of Pithoragarh can be traced to the age of Puranas when it flourished under different names, though no documents from that era has been recovered. What is known though, that Pithoragarh used to be an important stopover en route Kailasa Parbat. Ancient religious texts such as Rig Veda and Skanda Purana mention about the various tribes that inhabited the area.
How to Reach
Pithoragarh is one of the most beautiful, unpolluted and non-commercialized tourist places in the state of Uttarakhand. It is simply striking valley with a charming combination of rural and urban elements all in one place. There are many ways to reach Pithoragarh and though one might say the journey being strenuous, the natural beauty does inspire a visitor to come back repeatedly.
Temples
Temples are important structures in Pithoragarh for not only are they a place of worship but also a meeting point for people. Let's explore some of the most famous and ancient temples in Pithoragarh.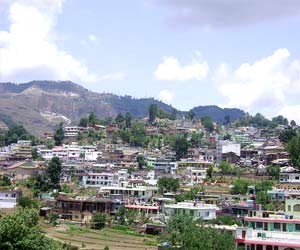 Pithoragarh Weather
The town of Pithoragarh is established in a valley surrounded by giant ice laden peaks which affect the weather of the Pithoragarh valley. Located at an altitude of 1,514 m (4,967 ft), Pithoragarh has a classic 'mountainous' temperature, i.e. tremendous disparity in temperature owing to great deal of elevation gradient.
Munsiyari
The name 'Munsiyari' means a 'place with snow'. Munsiyari is a tehsil and a town located in Kumaon Himalayas in Pithoragarh district within the hill state of Uttarakhand in India.
Places To See
Pithoragarh is quiet little hill station located in Uttarakhand state. Endowed with natural beauty in abundance, Pithoragarh is a destination that offers a retreat from the usual urban surrounds and maddening crowds of big cities.
Shopping
Pithoragarh is a beautiful hill station that has its share of traditional handicrafts and other local products you can shop for. Here you can look for traditional woven woolen shawls and blankets, apart from other woolen products. The designs and colors of apparels you find here are strikingly different and unique in themselves. Also, you can shop around for traditional gems and jewels found here.