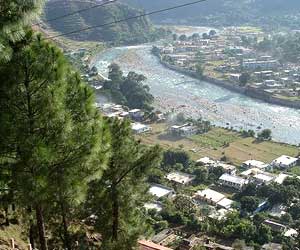 Pauri Garhwal is a district located in the south western part of the state of Uttarakhand. Its administrative headquarter is located in Pauri, a town in Pauri Garhwal district. Pauri Garhwal district is blessed with natural and picturesque beauty, lush green forests, turquoise blue sky and extremely hospitable people.
Pauri Garhwal is spread out across an area of 5,230 sq km (2,019 sq miles). Its location in the high altitude ensures that the weather here remains comfortably pleasant throughout the year. One can wear cottons and light woolens for summers and heavy woolens for winters and get by perfectly.
Pauri Garhwal district is well connected by road with major towns and cities of the region like, Dehradun, Rishikesh, Haridwar and so on. Tehri-Moradabad State Highway connects major destinations of the district like, Lansdowne, Kotdwar and Srinagar.
Pauri Garhwal is not only an important pilgrim destination but also very popular with casual tourists who seek to retreat from the hustle bustle of the city life into this quite Himalayan abode.
Tourist Attractions
The beautiful and tranquil mountains of Pauri Garhwal are home to so many beautiful places. Tourist attractions of the place consist of both natural as well as cultural endowments. The climate of Pauri Garhwal is cold but balmy in winters and pleasant but warm in summers, which makes it a delight to visit the tourist attractions here.
Srinagar
The city of Srinagar forms a part of Pauri Garhwal District of Uttarakhand state in India. Srinagar with a population of 19, 861 persons is a municipal board. The city is situated on the banks of river Alaknanda.
How to Reach
Pauri Garhwal District in Uttarakhand is well linked with roads to other parts. The Tehri-Moradabad Highway links the most important places of the Pauri district like Kotdwar, Lansdowne, Pauri and Srinagar.
Kanvashram
Kanvashram, 14 km from Kotdwar, is an important destination from historical and archaeological point of view. As the legend goes, it is believed that sage Vishwamitra meditated at this place.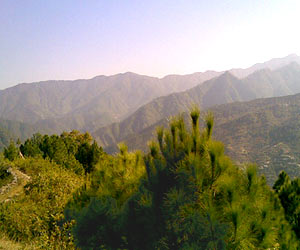 Kotdwar
Kotdwar which is 108 km from the district headquarter of Pauri, is a rapidly growing commercial center of Garhwal region. It is also one of the gateways to the hills of Garhwal.
Lansdowne
Lansdowne was founded in 1887 by Lord Lansdowne. Lansdowne was originally one of the most favorite hill stations of the British. Surrounded by thick forests of oak and blue pine, Lansdowne is a charming hill destination devoid of the usual hustle bustle other hill stations.
Pauri
Pauri, situated on the northern slopes of picturesque Kandolia hill ranges of middle Himalayas at the height of 1814 meters above the sea level, is the district headquarters of Pauri Garwal District of Uttarakhand state in India.
Tarakund
Tarakund, situated at an altitude of 2, 200 meters ASL, is a picturesque destination amidst snow capped Himalayas in Chariserh Development Area of Uttarakhand state in India.
Weather
The weather of any place is determined by its location, altitude and surrounding areas, same goes with Pauri Garhwal. The elevation of Pauri Garhwal is 1650 m above sea level which gives the region a sub-temperate weather ranging to a temperate climate, giving Pauri an enjoyable weather right through the year.