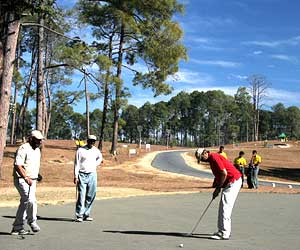 A beautiful cantonment town in the Almora district of Uttarakhand, Ranikhet is the perfect destination for those who love to enjoy the calm and serene beauty of nature, away from the hustle-bustle of cities. It is also the base for the Kumaon & Naga Regiment of Indian Army. The city is blessed with magnificent scenic grandeur and enjoys a salubrious climate throughout the year. Beautiful views of the majestic Himalayas as well as the blooming gardens make Ranikhet surely viewer's delight.
Ranikhet derives its name from Rani Padmini, the queen of Raja Sudhardev, who was in love with this place and subsequently chose it as her residence. This place came in light once again, in 1869, when the British Army chose it as the headquarters for its Kumaon regiment. Under British reign, Ranikhet was also proposed to be made the summer capital of India. However, the proposal fell through. Still, the architecture of some old buildings in Ranikhet depicts its British connection.
Set amidst dense forests of pine, oak and deodar, Ranikhet hosts a diverse variety of flora and fauna. This area has moist mixed-deciduous forests, sub-alpine pastures and scrub in abundance Leopard, Leopard Cat, Mountain Goat, Barking Deer, Sambhar, Pine Mertin, Wild Bear, Indian Hare, Red Faced Monkey, Jackal, Langur, Red Fox, and Porcupine are the animals that can be commonly seen here.
After having a glance at the beautiful scenic vista of Ranikhet, you must not forget to visit Chaubatia Orchard and Kumaon Regimental Centre Museum & Memorial. Other than this, the hill resort is also the land of ancient temples like Jhula Devi, Mankameshwar Mandir and Ram Mandir. Recently developed parks, dams and lakes are also worth a visit, if you are in Ranikhet. Away from the hush-bush of cities, the suburbs and excursions around the hill resort offer a lot of ease and peace to the tourists.
Tourist Attractions
Gently enveloped amidst dense pine and deodar forest, with a majestic background of Himalayas, Ranikhet indeed has a breath-taking and pristine charm. The tranquility and beauty of this place is unmatched and unscathed. Away from the hustle-bustle of popular hill stations in India, this is a perfect destination for those who are looking for a calm and peaceful holiday.
Places to See Near Ranikhet
Ranikhet abounds in natural splendor and has certainly many beautiful and mesmerizing locations to boast of. Quaintly enveloped by mystic Himalayas, this place is located amidst one of the most beautiful surroundings on earth. Not just the places in Ranikhet, but its excursions are equally enchanting and interesting.
Flora & Fauna
Ranikhet, a hill station and cantonment town situated in the Almora district of Uttarakhand, comes across as the perfect blend of forests, mountains and varied flora and fauna. In fact, perched at an altitude of 1869 meters above sea level, the town is known for its rich flora and fauna, which shows a huge impact of the Himalayan origin.
How to Reach Ranikhet
Synonymous with the Kumaon regiment of Indian Army, Ranikhet is a place that boasts of exceedingly scenic vista and an absolutely pleasing weather throughout the year. The town, situated in Almora district of Uttrakhand, has developed greatly after 1948, when the Kumaon regiment was shifted here, from Agra.
Things to Do in Ranikhet
Ranikhet is best appreciated for its scenic beauty and quaint charm. Besides lazing around and enjoying the nature's bliss, there is nothing much to do in Ranikhet. However, people want favors in any case. As hill-stations have always been liked for the natural world they offer, Ranikhet is also admired for the meandering trails, beautiful sceneries and peaceful surroundings.
Ranikhet's Weather
Basically known for its pleasing scenic beauty and wonderful temples, Ranikhet is a place where you can take a trip anytime of the year. Other than the scenic beauty that it offers to your eyes, the town boasts of a pleasing weather, throughout the year, which serves as a rejuvenating factor for your health.