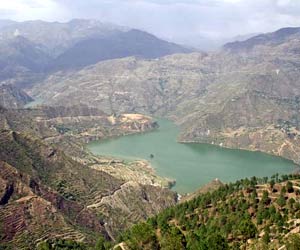 Tehri Garhwal's name was derived from the word 'Trihari', meaning a place that washes away the three major types of sins of thoughts, words and deeds. It is said that preceding the time of 888 AD, Tehri Garhwal was divided into 52 Garhs or kingdoms. Kanakpal, prince of Malwa, married a local princess and consolidated all the kingdoms under his rule. Kanakpal and his successors ruled Tehri Garhwal for 915 years, till 1803 AD.
Tehri Garhwal has a pleasant weather all through the year but sometimes it does get extremely chilly due to occasional snowing. Many of its tourist attractions like Dhanaulti , Kempty Falls and Nagtibba are very close to Mussoorie and hence very popular excursion / day picnic spots. The people of Tehri Garhwal are very hospitable are warm. The forests of Tehri Garhwal are literally a storehouse of health since many medicinal herbs, shrubs and trees are found here. The beautifully planned hill station New Tehri is the district headquarter of Tehri Garwal district.
Tourist Attractions
Tehri Garhwal is a quaint but beautiful little hill station in Uttarakhand. There are many (mainly natural) sightseeing places in Tehri Garhwal like Nagtibba, Kempty Falls, Devprayag & Khatling Glacier. One can also visit many ancient and holy temples like Surkanda Devi, Buda Kedar Temple, Sem-Mukhem temple and Chandrabadani temple.
Buda Kedar
Buda Kedar, a beautiful village lying in the cradle of nature, is located in Tehri Garhwal District of Uttarakhand state of India. The Village is surrounded by steep hills covered with lush green deodar forests.
Chandrabadani
Chandrabadani is a mountain that lies on the border of tehsil places Devprayag and Pratapnagar. It is crowned by famous Chandrabadani Devi Temple. Chandrabadni is about 22 km from Devprayag and 109 km from Narendra Nagar.
Devprayag
Devprayag which is situated at an altitude of 472 meters above the sea level is famous for many reasons. Devprayag lies at the confluence of rivers Bhagirathi & Alaknanda & thus is the starting point of the holy river Ganga.
Dhanaulti
Dhanaulti , amidst thick forests of oak, deodar, pine and rhododendron, is a perfect destination to retreat from the maddening crowds of big cities. Nestled in Garhwal Himalayas, Dhanaulti is a treat to the soul that seeks serenity and tranquility.
Flora & Fauna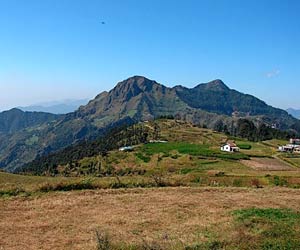 Tehri Garhwal, and in fact, the entire region of Uttarakhand is exceptional in the diversity of flora and fauna. Tehri Garhwal's topography is mountainous with flowering valleys and small grasslands complementing it. At one point of time the forests of Tehri Garhwal were teeming with many exotic and rare species but now they are critically endangered.
How to Reach
Tehri district is divided into two sections - New and Old Tehri. It is one of the largest districts of Uttarakhand with Rudraprayag, Dehradun, Uttarkashi and Pauri Garhwal as neighbors. Get acquainted with the various ways of reaching Tehri Garhwal.
Weather
Tehri Garhwal District is located at the western boundary of Uttarakhand. Located on the external range of the Middle Himalaya Mountains, Tehri Garhwal encompasses low lying peaks rising closely with the plains of the Northern India.
Muni Ki Reti
Muni Ki Reti is a small town with Tehri Garhwal district of Uttarakhand state in India. Situated at an elevation of 356 meters above the sea level, Muni Ki Reti is mistakenly considered an extension of Rishikesh, being very close to it.