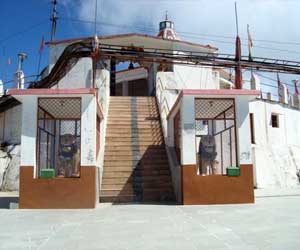 Chandrabadani is a mountain that lies on the border of tehsil places Devprayag and Pratapnagar. It is crowned by famous Chandrabadani Devi Temple. Chandrabadni is about 22 km from Devprayag and 109 km from Narendra Nagar.
Chandrabadni Temple
The Chandrabadani Temple is dedicated to the Goddess of power. According to the legends, Lord Shiva while carrying torso of his consort Sati, accidentally dropped it here and her weapons got scattered all around the place. Thus, even today huge number of iron trishuls (tridents) and some old statues can be seen lying around the revered temple of Chandrabadani.
Apart from the temple, this place offers breathtaking views of snow capped Himalayan peaks like Kedarnath, Badrinath and so on.
How to Reach
By road, one can reach Jamnikhal which is about 32 km from Devprayag. From Jamnikhal it is a 3 km walk uphill to Chandrabadani Temple. Nearest railhead is at Rishikesh and nearest airport is Jolly Grant of Dehradun.