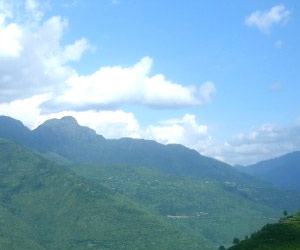 Tehri Garhwal District is located at the western boundary of Uttarakhand. Located on the external range of the Middle Himalaya Mountains, Tehri Garhwal encompasses low lying peaks rising closely with the plains of the Northern India. The mountains near and around Tehri are a big decisive factor in the weather and climate of Tehri Garhwal. However, Tehri Garhwal sometimes has extreme temperatures, mainly due to its changeable altitude of 1550 m to 1950 m.
The minimum temperature in summer remains 9°C and 3°C in winters. However, the temperature in Tehri Garhwal shoots up to 30°C in summers and 15°C in winters. Though one can visit the place all through the year, the weather is absolutely delightful in the months of April to September. The average annual rainfall (though fluctuating) here remains about 70 cms.
The summers here are very pleasant with the harsh mountain sun balanced with the just nippy air. A person wearing thick cotton clothes with maybe light woolens will feel comfortable. The winters are however very harsh at times with severe cold draughts all over the Tehri Garhwal region. At this time period one can wear heavy woolen clothing to protect themselves.