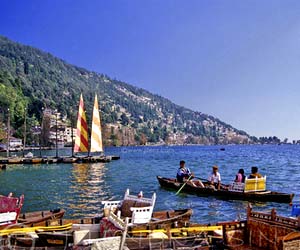 Nainital, also known as the Lake District of Uttarakhand, is an absolutely beautiful and tranquil hill station situated amongst the seven hills. It is one of the most popular hill stations in North India.
Nainital is situated at an average altitude of 1,938 m. The town is situated all around the beautiful Naini Lake, which is said to be the result of Goddess Durga's fallen charred eye resulting in a lake. The place has been mentioned many a time in ancient Indian texts such as the Manas Khand of the Skand Purana.
Nainital was rediscovered by the British in 1814-16 after the Anglo-Nepalese war in Kumaon. The present structure of the town has reminisces from the British era. There are a number of scenic places in and around Nainital for sightseeing like Naukuchiya Tal, Mukteshwar, Sat Tal, Naini Lake, Mall Road, Hanuman Garhi, Astronomical Observatory etc.
Nainital is also famous for the British made residential schools which dot the entire Nainital scene. Some of these are the Sherwood College (the institution has Amitabh Bacchhan, a renowned Bollywood actor as its alumni), St. Mary's Convent High School, St Joseph's College and Sainik School in Ghorakhal.
Tourist Attractions
Nainital is a pleasant and delightful little hill station located in Kumaon foothills. It is particularly know for its pristine natural beauty and famous as the location of one of the 48 Durga Shakti Peeth.
Bhimtal
Bhimtal is a small town situated in the Nainital district of Uttarakhand. It is named after Bhim, one of the five Pandavas mentioned in the Hindu-epic Mahabharata.
Bhowali
Bhowali is a small hill station that falls under the Nainital district of Uttarakahnd. It is located on the main Haldwani-Almora-Ranikhet road, at an altitude of 1706 meters.
Place to See Near Nainital
Nainital is a beautiful place with even more beautiful treasures hidden away behind the veil of tranquil nature. There are lot of excursions near Nainital which can be fun as well as enriching for both children and adults.
Ghorakhal
Ghorakhal is a small place, perched at an altitude of 2000 meters above the sea level. It falls under Nainital district of Uttarakhand, approximately 36 km from Kathgodam Station and 4 km from Bhowali.
Hanuman Garhi
Hanuman Garhi, a famous Hindu temple of Lord Hanuman, is situated to the south of Tallital, approximately 3.5 km away from the Nainital bus stop. The temple is perched at an altitude of 6,401 feet from the sea level.
History
Nainital is one of the most beautiful places in Uttarakhand. It finds mention in several ancient texts such as 'Manas Khand' of Skandapurana.Then there is legend of Ma Sati's charred eye falling here to form the Naini Lake
How to Reach
The city of Nainital is located in the Kumaon foothills of the outer Himalayas in the state of Uttarakhand. The picturesque hill station of Nainital is marked by lush greenery and imposing mountains.
Things to Do in Nainital
Nainital, located at the Kumaon foothills of Uttarakhand, has been luring tourists with its immaculate beauty since ages. Surrounded by three towering peaks, Naina Peak, Tiffin Top and Snow View, this quaint little hill resort promises to take you miles away from the hubbub of city life and enjoy some time in peace and solitude.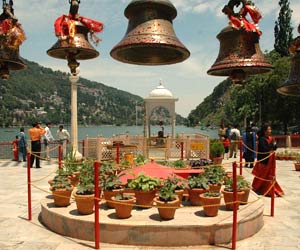 Naina Devi Temple
Naina Devi is considered to be one of the most revered Hindu temples in India. It is situated on the northern shore of Naini Lake, in the Nainital district of Uttarakhand.
Naini Lake
Naini Lake is a natural freshwater lake, of tectonic origin, located amidst Nainital city of Uttarakhand. It is lunar-shaped and has an outlet at the southeastern end.
Naukuchiatal
Naukuchiatal is, perhaps, the most beautiful of all the lakes in Uttarakhand. A unique nine-cornered lake, it is situated 24 km away from Nainital, in the foothills of Kumaon, at an altitude of 1,219 meters.
Ramgarh
Ramgarh is a small hill station located in the Nainital district of Uttarakhand. It is sited at an altitude of 1,789 meters, around the Himalayan foothills.
Sat Tal
Sat Tal is one of the major tourist attractions, situated in the Nainital district of Uttarakhand. The term Sat Tal, in Hindi, means "seven lakes". The place is so called because it is an interconnected group of seven freshwater lakes
Shopping
Nainital is flushed with choices on what to buy having exclusively the 'made-in-Nainital' stamp. There is an assortment of alternatives for shopping in Nainital.
Snow View
Snow View is one of the most popular tourist attractions of Naintal. It is situated on top of Sherkhanda ridge, at an altitude of 7,448 feet (2,270 meters) above sea level.
Weather
The weather of Nainital is largely influenced by the Himalayan terrain it is surrounded with. Nainital has a pleasant to nippy weather in approximately all the months except that of January to mid March since at that time it snows there.
Haldwani
Haldwani is a town located in the district of Nainital within Kumaon region of Uttarakhand state in India. Haldwani, which is one of the biggest commercial centers of the state, is considered to be the gateway to Kumaon Himalayas.
Kathgodam
Kathgodam is an important town of Nainital district within the hill state of Uttarakhand. It serves as the nearest railhead to hill station of Nainital and is an important center for trade and commerce in itself.