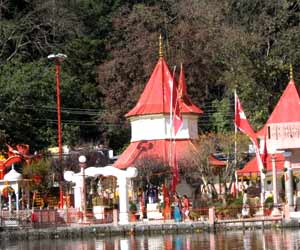 Naina Devi is considered to be one of the most revered Hindu temples in India. It is situated on the northern shore of Naini Lake, in the Nainital district of Uttarakhand. The presiding deity of this temple is Maa Naini Devi or Mata Sati. As per Hindu mythology, the temple marks the spot where Goddess Sati's eye fell on the earth, after Lord Shiva carried her charred remains, taking them out of the fire of the yagna performed by her father - Daksha.
Naina Devi is one of the temples built on the remains of Goddess Sati and is considered to be extremely sacred and pristine by the devotees. Two eyes on the roof of temple depict the "Goddess". Maa Naini Devi, in this temple, is shown accompanied with Lord Ganesha, the God of Wisdom, and Kali Ma, the Goddess of Death and Destruction. The city of 'Nainital' got its name from the Naina Devi temple only.
The temple is situated in the middle of 1567 yard long, 167 yard wide and 93 feet deep lake. Every year since 1918, a grand statue-immersion ceremony has been taking place here, on Bhadrapad Shukla Ashtami. Naina Devi temple serves as a major tourist spot of Nainital. It is said that the current temple at Nainital actually replaces the original 15th century temple, which was built during Kushan dynasty reign and got destroyed in a landslide, in 1880.
There are some people who also say that a devotee of Maa Naini, Moti Ram Shah, was the one who established this temple in 1842 and it got destroyed in 1880 landslide. In short, the truth of the story of Naina Devi temple, before 1880, varies according to the beliefs of different people. Whatever be the past, there is one fact related to the temple, over which there is no contradiction, that it was reconstructed in 1883.