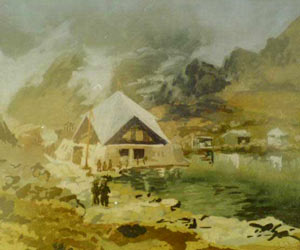 The state of Uttarakhand has a rich tradition of various arts and crafts like painting, wood carving, jewelry making, candle making, decorative temples and of course performing arts like music and dance. Their inspiration was obviously the lush green surroundings, the turquoise sky and the snow filled mountains which could make anyone poetic. The tranquil environs form a base for a treasure-house of artistically inclined people.
The most prominent craft of Uttaranchal is wood carving. Every Garhwali home, let alone the palaces, has an intricately carved wooden entrance door. Talking of palaces, the most notable wood-carved architectural wonders are the Chandpur Fort, Temple of Srinagar (Garhwal), Pandukeshwar (near Badrinath), Devi Madin (near Joshimath), and Devalgarh Temple. The next in line are the fine-arts including the Miniature Paintings and Aipan & Peeth.
The miniature paintings have Mughal influence but Uttaranchal has its own school/style of painting called the Garhwal School of Painting (offshoot of the Pahari School). Aipan and Peeth however are folk forms art made generally in homes and practiced usually by women. Both use a lot of geometric patterns, 'Geru' and rice paste. One can buy traditional Uttarakhand ornaments made from gold, silver, copper, beads, semi-precious stones and lacquer from various jewelry shops across the state.
Aipan
Rangoli, a traditional Indian art displayed in front of the house, makes up a sacred and age-old practice. Aipan is one of the conventional forms of rangoli, mainly practiced in the state of Uttarakhand. The art has cultural as well as religious implication in the life of the Kumanois.
Murals
The fine arts of Uttaranchal are decidedly geometric with a natural grace and simplified complexity. One will find almost every home and place of worship decorated with some kind of mural done either as a proper wall painting or in the form of Aipan and Peeth.
Paintings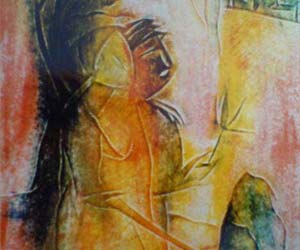 Uttarakhand is interspersed with lush green trees, towering mountains and a clear blue sky. These things are enough to make someone a poet or an artist. This is just a fraction of the beauty of the hilly territory. Uttaranchal or specifically, Garhwal is home to one of the most beautiful and defining 'Gharanas' of miniature paintings known as the Garhwal School of Painting.
Temple Architecture
Temple architecture in any part of India has always been patronized by the kings and people ruling there as a way to leave an imprint on the pages of history. The rulers of yesteryears built some of the intricately carved and exquisite places of worship.
Wood Carving
The people of Uttaranchal are very creative in nature and the fact testifies itself in the beautiful temples that dot the entire land. The wood carvings of Garhwal and Kumaon are renowned for their simple yet delicate and attractive designs.