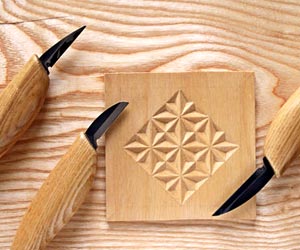 The people of Uttaranchal are very creative in nature and the fact testifies itself in the beautiful temples that dot the entire land. The wood carvings of Garhwal and Kumaon are renowned for their simple yet delicate and attractive designs. The tradition of wood carving has almost come to a standstill today as a result of the depleting tree population and environmental concerns. Nevertheless, one can still enjoy the carved architecture in the religious places like temples and homes of affluent people.
Decorative Use
In ancient days every house had a wood carved entrance door. It served as an indication of a person's wealth and prosperity. The wealthier a person was, the bigger was the front wooden door. The designs were more convoluted and so were the carved designs. Even today the front doors of many houses of Garhwal and Kumaon are brilliantly carved with floral designs, animals and fish. These ornamental wood carvings done on front doors are called 'Kholi' in the local language (Garhwali).
The Designs
Any person interested in art and architecture of India would find these carvings and their designs very fascinating. In the regions of Garhwal and Kumaon the first floor of the house (usually) are made of intricately and artistically carved wood. The customary miniature window-aperture bears a resemblance to pigeonholes cut in wooden panels.
Designs of creepers and floral appearances based on lotus, pomegranates and grapes, images of humans, birds, animals and other sacred signs and emblems find expression in the wood carving on door panels, windows and ceilings. The patterns are typically of the Gods and Goddesses which adds to the opulence of the carved wooden latticed frames.