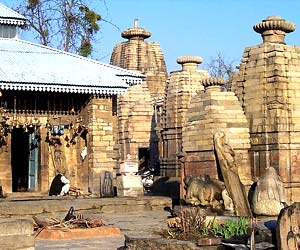 Temple architecture in any part of India has always been patronized by the kings and people ruling there as a way to leave an imprint on the pages of history. The rulers of yesteryears built some of the intricately carved and exquisite places of worship. Uttarakhand has some wonderful temples that can be visited after a tough journey like the Kedarnath Temple. The rulers under which the temples prospered and protected were of Paun, Katuyari, Pawar and Chand dynasties.
Embellished Beauty
Dynasties in Uttarakhand supported creation of big temples made of stone and wood, decorated with painstakingly intricate wood carvings. The temples were also sometimes painted with decorative Peeth and Aipan designs. Both of these are Rangoli type designs, the former made around the seating area of the gods and the latter in the sanctum sanctorum (Garbha Griha) of a temple. The statue of the deity was made of either stone or metal and adorned with the best clothes and ornaments one could find in the area.
Architectural Marvels
The temples in Uttaranchal were usually made in Nagara style of architecture or the Garhwali Style of architecture. The Nagara architectural style is simple but striking with its tall curvilinear spire 'Sikhara' with an 'Amalaka' (capstone) on top of the spire. The 'Kalasha' design coronets the square Sanctum Sanctorum entrance to which is through a carved doorway.
The Garhwali style temple usually had a lotus shaped roof, a lion standing over the elephant projected over the lower Sikhara. This Sikhara usually covers the audience hall in Punch Rath or Sapta Rath model giving the temple a cylindrical form. These temples are usually surrounded by a group of smaller temples devoted to deities of smaller pecking order.