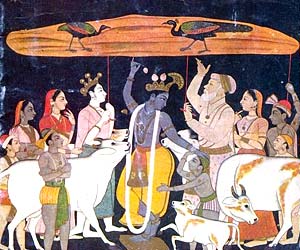 Uttarakhand is interspersed with lush green trees, towering mountains and a clear blue sky. These things are enough to make someone a poet or an artist. This is just a fraction of the beauty of the hilly territory. Uttaranchal or specifically, Garhwal is home to one of the most beautiful and defining 'Gharanas' of miniature paintings known as the Garhwal School of Painting. This is offshoot of the Guler-Kangra (Pahari) School of Painting of Himachal Pradesh. The basic timeline for its development and its peak ranges from 13th -18th Century A.D.
Masters and Masterpieces
The credit of reinstating the Garhwal Painting into their original position should go to Mukandi Lal, a barrister by profession. His passion for paintings surfaced in a 1968 book called 'Garhwal Paintings'. It revived and popularized this genre to a large extent. The most famous Garhwal School of Painting artists are Mola Ram, Shyam Das, Har Das, Hiralal, Mangat Ram, Jwalaram, Tejram and Brijnath. The most 'colorful classics' known consist of Illustrations of Ramayana (1780 AD), Celebrations of Balarama's Birthday (1780 AD), Series of Raginis, Shiva and Parvati, Utkat Nayika, Abhisarika Nayika, Krishna Painting the feet of Radha, Radha looking into a mirror, Varsha Vihar, Kaliya Daman, Illustrations of Geet Govinda.
Special Features
The distinctive features of the Garhwal School of Painting consist of extremely beautiful and near perfect women with high arched, thin and delicate looking eyebrows and a captivating nose with a defined nose bridge resting on a supple oval face. The build of the female would usually have a tiny waist emphasized by the greatly developed bosom. This envisioning of the ideal beauty was on metaphorical terms that blended poetry and passion with romance and sometimes religion. It showed the unblemished approach towards finding that unabashed and spiritual love in India at that time.
How it Started
In 13th Century the Kumaon region was ruled by the Chand Dynasty (starting 700 AD till mid 19th Century). This long rule resulted in the prosperity of the state and gave people time to cultivate their creative side. This gave rise to the period of learning and development of new styles of painting in the area, collectively called the Pahari School of Painting. In the middle of the 17th Century Suleiman Shikoh, the nephew of Mughal king Aurangzeb, stayed here for a while.
The court painters accompanying him were already experienced with the Mughal Miniature Painting style and were fascinated by the new Pahari Style. The painters stayed behind when Shikoh left and gradually their descendents, experts on their own rights, started what today is known as the Garhwal School of Painting. In 18th Century, a poet cum painter cum statesman called Mola Ram further defined and refined the nuances of this school, giving an identity to it.