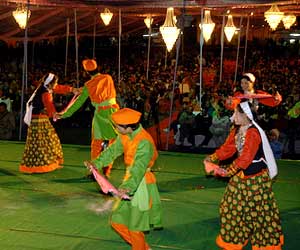 The culture of a place depends upon its inhabitants, environment and its heritage. Uttarakhand has all the things in abundance. In fact, it has every thing that any tourist could want. The most significant donor for giving mass appeal to tourism in Uttaranchal is the state's rich culture, an excellent intermingling of exoticism as well as the way of life. Frequently thought-out to be the belt of Hindu culture, the Uttaranchal's culture is beyond doubt one of the most vital tourist attractions of Uttaranchal.
The highlights of the Uttaranchali culture should be its history, people, religion and dances. All of them are a beautiful amalgamation of different influences from all the races and dynasties it has been ruled by. Its history is chequered in comparison to the arts culture but still interesting enough to hold a person's consideration. Its dances are connected to life and human existence and exhibit myriad human emotions. Any trip to this tranquil will be incomplete unless you explore the wonderful culture and lifestyle of the local people.
Dances
Majestic Himalayan Mountains of Uttarakhand have an array of legends and activities attached to them. The state of Uttaranchal has a rich tradition of performing arts and especially dances. Nearly all of the performing arts are tremendously popular in the Garhwal region of the state.
History
Uttarakhand literally means Northern Section. Earlier it was a part of the state of Uttar Pradesh but now it is an independent state. Uttarakhand also has the sobriquet of 'The Land of Gods' and 'The Heavenly Abode'.
People
Uttarakhand is a region with great ethnic diversity. Though nobody can be called a native here, there are tribes and villages of people who have no other place to relate to. They are mostly dependent on agriculture and handicrafts.
Religion
Religion or faith can be defined as belief in a supernatural power that protects us, punishes us and provides us with whatever we need. It sometimes has a face and sometimes it doesn't but the faith prompts people to worship this power.