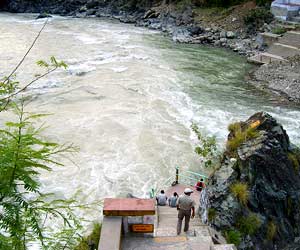 At Rudrapryag, you can see natural beauty in its glory. Sometime back Rudraprayag was a part of the Chamoli and Tehri districts. However, in 1997, the Kedarnath valley and parts of district Tehri & Pauri were conjoined to form Rudraprayag as a new district.
The whole expanse of Rudraprayag is exalted with enormous splendor, many destinations of religious significance and glaciers. Named after Lord Shiva's Rudra avatar, Rudraprayag has the fortune of being the confluence of rivers Alaknanda and Mandakini.
Rudraprayag is known as the last stoppage point before pilgrimage treks to Kedarnath and Badrinath. Rudraprayag is dotted with temples which are significant from archeological as well as religious points of view.
Tourist Attractions
Rudraprayag offers a number of beautiful tourist attractions. And almost all of these attractions are religious structures or related to nature. These tourist attractions wonderfully present the cultural, religious and historical significance to the visitor.
Gaurikund
Gaurikund, situated amidst pristine Himalayan environs, is located in the district of Rudraprayag in the hill state of Uttarakhand in India. At an elevation of 1, 982 meters above the sea level, Gaurikund offers breathtaking panoramic view of snow capped higher Himalayan peaks.
Guptkashi
Guptkashi, a place filled with serenity and tranquility, is located in the district of Rudraprayag within the hill state of Uttarakhand in India. Guptkashi is about 49 km from the famous Kedarnath.
How to Reach
Rudraprayag offers innate splendor, places of spiritual significance, beautiful lakes and glaciers. The place is famous for the confluence of Rivers Alaknanda and Mandakini and one can distinctly see the water's shade merging from two different sources.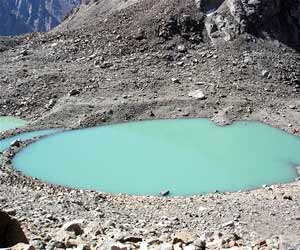 Koteshwar Temple
The temple of Koteshwar is located at a distance of 3 Km from the main city of Rudraprayag in the hill state of Uttarakhand. Koteshwar is an ancient temple dedicated to Lord Shiva.
Panch Kedar
There is an interesting legend about the Panch Kedar. According to it, after the battle of Kurukshetra the Pandavas went out look for Lord Shiva to seek his blessings. But Lord eluded them since he did not wish to meet them.
Temples
Rudraprayag is full of temples and these temples have various myths and legends associated with them. Most of the temple legends are associated with Lord Shiva, Mahabharata, Ma Gauri and the Pandavas.
Weather
Weather of Rudraprayag depends largely upon its varying altitude of 800 to 8,000m above sea level. The temperature remains pleasant to cold for most parts of the year, though one might need light woolens.