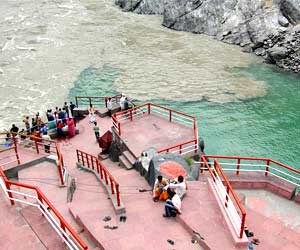 Rudraprayag offers a number of beautiful tourist attractions. And almost all of these attractions are religious structures or related to nature. These tourist attractions wonderfully present the cultural, religious and historical significance to the visitor. Here are some well-known tourist attractions of Rudraprayag.
Guptkashi
The main attractions in the prehistoric city of Guptkashi are the ancient Vishwanath temple, Ardhnareshwar temple and Manikarnik Kund (the place of Ganga - Yamuna confluence). This place is also mentioned in the epic Mahabharata.
Gaurikund
Gaurikund is the last destination before Kedarnath to be connected with a proper transportation, after that people have to trek. The pilgrims usually have a bathe in the hot Sulphur springs and pray in Gauri temple (the spot where Ma Gauri did successful penance to attain Lord Shiva as husband) before proceeding.
Confluence
The convergence point of Rivers Mandakini and Alaknanda is simply a sight to watch. The view is absolutely beautiful and breathtaking. The difference in the colors of the water of the two rivers makes it easy to distinguish the actual water mixing point. The confluence is considered so holy that thousands take a dip here to purify themselves before paying obeisance to the nearby temples of Goddess Jagadamba and Lord Shiva.
Augustmuni
Situated approximately 18 kms from Rudraprayag, Augustmuni is the place where Sage Agastya is said to have meditated for years for attaining wisdom. This place also has a temple dedicated to him.
Chopta
Chopta is a stunning hill station located about 40 kms from Gopeshwar. One can observe all the breathtaking sights of the Himalayan Mountains from here.
Ukhimath
Also known as the winter seat of Kedarnath, Ukhimath is 41 kms from Rudraprayag and 13 kms from Guptkashi.