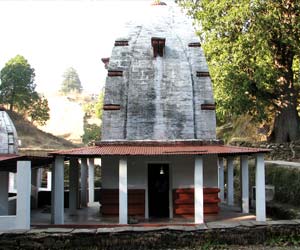 Binsar Mahadev Temple
Binsar Mahadev temple is situated at an altitude of 2,480 meters ASL. It is about 22 km from Thalisain. Binsar Mahadev temple is famous for its archeological significance, being an ancient construction of 9th century. It is believed to be constructed in just one day. Though the temple is dedicated to Lord Shiva, the sanctum also houses idols of Lord Ganesh and Goddesses Parvati and Durga.
This Temple was constructed by King Kalyan Chand of Chand Dynasty.
Places Of Interest Near Binsar Mahadev
Binsar Wildlife Sanctuary - Spread across 45.59 Sq. Km, this sanctuary is home to a wide variety of flora and fauna.
Binsar Sanctuary Museum – Provides valuable information about the flora and fauna of Binsar Wildlife Sanctuary.
Almora – Famous for Chitai and Nada Devi Temples and panoramic view of magnificent snowy peaks of Himalayas
Jageshwar – Famous for housing one of the twelve Jyotirlingas
Katarmal – Famous for Sun Temple built by Katyuri Rajas some 800-900 years ago.
How to Reach Binsar
Perched at an altitude of 2400m above sea level, Binsar is one of the most well-known forest reserves in Uttarakhand. The places extends visitors a panaromic view of the mesmeric snowcapped Himalayan ranges, such as the peaks of Nanada Devi, Kedarnath, Chaukhamba, Trishul, Panchchuli and Nanda Kot.
Things to Do in Binsar
Tucked away in the Kumaon Hills lies Binsar Wildlife Sanctuary - a forest reserve sprawling over an area of about 47 sq km. The sanctuary extends tourists a wide variety of floral species, fauna as well as avi-fauna. With so much to explore, Binsar truly makes way to be one of the ideal destinations in the Uttaranchal.
Binsar Tourist Attractions
Binsar is one of the most scenic areas and highly-acclaimed hill resort in the Kumoun Himalayas. It is located at a distance of about 26 kms from Almora, at an altitude of 2412 mts. Surrounded by abundant garlands of alpine flora, ferns, hanging moss and many other species of wild flowers, Binsar is surely one of the most delightful places to visit.
Binsar Wildlife Sanctuary
Nestled amidst the Himalayan range overlooking the Almora valley, Binsar is a beautiful, quiet and wild destination to explore in the Uttarakhand state of India. Once the summer capital of the Chand Rajas of Kumaon, the place today, serves as the home of wild animals and birds.
Binsar Weather
Snuggled at an altitude of 2400m above sea level, Binsar is extremely blissful and idyllic retreat for tourist. Once the summer capital of the Chand Rajas, it extends holiday makers one of the most scenic spots in the Kumaon Himalayas. Talking about the climatic conditions, Binsar promises tourists a relaxing and rejuvenating weather all throughout the year.