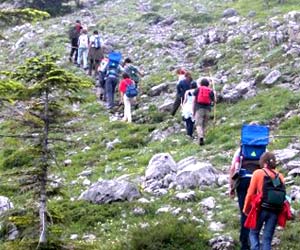 Tucked away in the Kumaon Hills lies Binsar Wildlife Sanctuary - a forest reserve sprawling over an area of about 47 sq km. The sanctuary extends tourists a wide variety of floral species, fauna as well as avi-fauna. With so much to explore, Binsar truly makes way to be one of the ideal destinations in the Uttaranchal. Miles away from the clatter and clamor of city life, an escapade to the wilds would be a truly fascinating as well as refreshing experience to beckon. And if you are still wondering about what to do and see in Binsar, browse through the following lines.
Fun Activities To Do In Binsar
See the Wildlife
Once in Binsar, the first and foremost thing to do would be to explore the unruffled nature. Binsar is a haven for nature lovers and adventure freaks, extending them a large stretch of pristine surrounding. The scenic mid-altitude broadleaf temperate forest harbors a wide array of wildlife, including spectacular pheasants. Tourist can explore the amazing wildlife of the area and experience a riveting sojourn.
Enjoy Bird-Watching
If you have a fascination for colorful and chirping birds, Binsar Wildlife Sanctuary is nothing but a paradise. There are innumerable varieties of birds that extend a colorful plumage to the whole area. There are a total of about 200 species of birds, some of which are tits, forktail, nuthatches, blackbirds, parakeets, laughingthrush, magpies, kalij pheasant (lophura leucomelana),monal, koklas and woodpeckers.
Explore the Heritage
Binsar extends tourists not just a wildlife sanctuary, but some spellbinding archeological sites. The Binsar Sanctuary Museum is one of the archeological sites in place, forwarding tourist detailed information about the flora and fauna of the region. Apart from this, there is a long stone with cup-marks near Dinapani on the Almora-Binsar road. According to historians, these cup-shaped marks belong to Megalithic Age.
Go Trekking
Located in the middle Himalaya region.in the Almora District of Uttarakhand, Binsar is the best sites to go for trekking. The trekking tracks in the region forwards tourist an amazing opportunity to have an enthralling experience. So all you need to do is just pack your bags and set out to explore!!