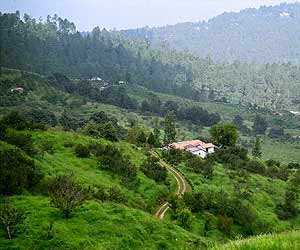 The town of Almora is an extremely beautiful and hospitable hill station in Uttarakhand. It is a homogenous mixture of its royal past, British heritage and modern comforts. Almora has a lot of nearby places that double up as excursion as well as picnic destinations. Listed below are some serene and charming excursions near Almora.
Ranikhet
Located approximately 50 kms fro Almora, Ranikhet is famous as the regimental center of the Kumaon Regiment of Indian Army. One can visit its museums or play Golf in the lush green Golf Course. Visitors can pick up farm fresh and perfectly healthy apples, plums, peaches and apricots from Chaubatiya Gardens, located just four kms from Ranikhet.
Kausani
The hill station of Kausani is situated just 52 kms from Almora. This place has breathtaking sceneries of the Himalayan Mountains and its valleys. Mahatma Gandhi loved this place and sometimes stayed here for 15 days in a row. The place where he stayed is now called Anashakti Ashram.
Binsar
Enveloped in dense forests of Oak and Rhodenderon trees, Binsar is almost 30 kms away from Almora. The total area is at the present a wildlife sanctuary and has a lot of wild but rare animals like Panther and Barking Deer. It is said that the spiritual aura reforms even the hardest of criminals by inducing humanity, remorse and pity in them.
Bageshwar
Bageshwar, 90 kms from Almora, is well-known for basically two things – the Bageshwar Temple and the Himalayan glaciers. The Bageshwar Temple's resident deity is Lord Shiva, who is present here in the form of a tiger. One has to stop at Bageshwar town to reach the Sunderdunga, Kafni and Pindari glaciers.
Baijnath
The primordial town of Baijnath lies in the Katyuri Valley. It was once the capital city of the Katyuri Royal Dynasty and hence is also called Kartikyapura. The town is also known for its ancient but splendid Baijnath temple with a gleaming stone idol of Goddess Parvati.