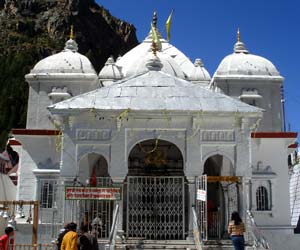 The Char Dham (four abodes) is considered the most important Hindu pilgrimage in the Indian Himalayas. Located in the Garhwal region of Uttarakhand (formerly Uttaranchal), the Chardham Yatra consists of four sacred sites- Yamunotri, Gangotri, Kedarnath and Badrinath.
Badrinath
Badrinath is one of the holiest Hindu pilgrimages and an important destination in the Char Dham circuit. It is located between the mountains of Nar and Narayan with River Alaknanda flowing peacefully beside it. It is known as Badrinath since the entire region is covered with Badri trees (Indian Jujube).
Kedarnath
Kedarnath is one of the most revered and most visited pilgrimage places in India. This pilgrimage was established by Adi Guru Shankaracharya in early 8th century. Situated at an altitude of 3,580 m (11,750 ft), this pilgrimage spot is devoted to Lord Shiva. The present structure of Kedarnath temple is assumed to be more than 1,000 years old. Kedarnath is one the twelve 'Jyotirlingas' of Lord Shiva.
Gangotri
Gangotri is the place of the origin of the holy River Ganges, drawing thousands of pilgrims every year. Gangotri is the earthly throne of Goddess Ganga and is one of the four sites of the sacred Char Dham pilgrimage circuit. It is situated at an altitude of 3,753 m (about 12,313 ft). The 'new-born' river is called Bhagirathi at the source and acquires the name Ganga from Devprayag onwards, where it meets the Alaknanda River. Ganga originates at Gaumukh in the Gangotri Glacier which is a 19 km trek from Gangotri. Gangotri gives the excitement of conquering nature combined with a person's spiritual awakening.
Yamunotri
Yamunotri is the starting point of the holy River Yamuna. It is the westernmost shrine in the Garhwal range of the Himalayas, balanced on the borders of Bandar-Poonch Parvat. The main attraction at Yamunotri is the temple dedicated to Goddess Yamuna and the holy thermal Sulphur springs, almost 7 km away at Jankichatti.