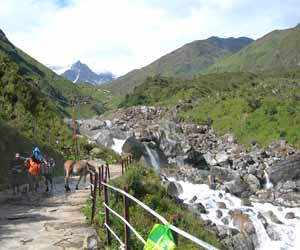 The prospect of going to an entirely new place is very thrilling as well as daunting at the same time. When someone comes across a new place with a fresh culture with new people and traditions, one tends to feel overwhelmed. This article will provide with the right amount of information that you need to get through this journey of a lifetime. This section on travel tips will also help you understand what to expect in Uttarakhand and what people there expect of you. These tips will help you overcome faux pas in an alien land. And sometimes even small things help you to avoid a lot of trouble.
The major languages used in Uttarakhand are Hindi, English and Garhwali. If you know even a smattering and most used phrases then you will get by easily. Safely keep your travel and identity documents like passport and visa since they permit you to travel unreservedly in a strange country with virtual ease. This section also covers vital advice pertaining to topics such as Airports, Cuisine, Voltage, Location, STD Codes, Holidays, How to Reach Uttarakhand, Shopping and Weather. Read them and then go explore the Abode of Gods aka Uttarakhand tension free.
Airports
There is a major airport in Uttarakhand while the other two assist it. Jolly Grant Airport, located in Dehradun is the main airport in the state of Uttarakhand.
Food
Food is one of the major concerns when traveling in any distant land. So fret not because the cuisine of Uttaranchal has diverse flavors, colors and ingredients.
General Tips
The state of Uttaranchal has a never ending sky with high and lofty mountains beckon you to come to their territory just once. But to actually enjoy yourself there you need to be prepared and to help you with this preparation, we are jotting some travel tips to make things easier.
Holidays
When a person is on a vacation, the last thing ruining their sightseeing is the 'holiday' on which any monument or park is closed. Here is a list of holidays and off days in Uttarakhand to help you plan your vacation accordingly.
How to Reach
The heavenly abode of Uttarakhand is an open invitation waiting to be accepted by the people. The state of Uttaranchal boasts of admirable road and rail network in terms of user friendliness.
Location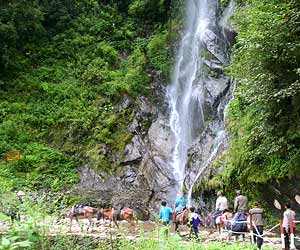 Uttarakhand is located in the northern part of India and has a total geographic area of 51,125 sq kms. It is one of the most beautiful and religious place in India whose charm was rediscovered by the British officers.
Shopping
Whenever we go on a holiday far away from home, we want to take mementos and presents for folks back home. Shopping in Uttarakhand is the most compulsive delights of a journey here.
STD Codes
Whenever we go to new place we feel the need to have a few things like maps, travel guides and important phone numbers. Every city in the world has its unique STD (Subscriber Trunk Dialing) and countries have ISD (International Subscriber Dialing) numbers.
Voltage
The electricity supply in the state of Uttarakhand is identical to that of the rest of India. The voltage used in Uttarakhand is 240 Volts which alternates at 50 cycles per second.
Weather
The lofty peaks of Himalayas influence the character of weather as they do the vegetation of the area. Since Uttarakhand is the part of the Western Himalayan ranges, it has every elevation of hills imaginable, right from the Shivalik foothills to the Greater Himalayas.
Uttarakhand Geography
Uttarakhand is situated on the southern slope of the mighty Himalayas. The climate and vegetation of different cities of this state vary with the altitude of its location. Glaciers being located at the highest elevations have coolest weather and are covered by ice and bare rock
Uttarakhand Map
Uttarakhand is the 27th state of India carved out of Uttar Pradesh in November 2000. There are 13 districts in the state. Out of these 13, seven districts lie in the Garhwal region and the rest six in the Kumaon region. In total, there are 15,669 villages in Uttarakhand.
Uttarakhand Transport
The Local transport in Uttarakhand basically depends upon State Transportation Buses and Shared taxis. However, in plains the 'Rickshaw' culture is still prevalent, on hilly terrains you may also get to enjoy a 'Tonga or Pony' ride. The transportation is comparatively easier in the plains as compared to the steep hills where there are frequent landslides and a speed of more than 25/hour can be dangerous.