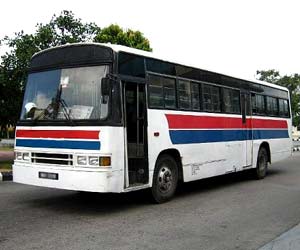 The heavenly abode of Uttarakhand is an open invitation waiting to be accepted by the people. The state of Uttaranchal boasts of admirable road and rail network in terms of user friendliness. The state hosts a variety of colorful fairs and festivals all round the year. Uttaranchal should preferably be visited between the spring / summer months of March and June. Underneath are listed some of the ways to reach the ĎAbode of Godsí:
By Air
The state of Uttarakhand has only one airport till now in the form of Jolly Grant Airport in Dehradun. The second is in Pant Nagar, near Nainital, with limited flights. Almost all public and private airlines operate regular flights to Dehradun.
By Road
Uttarakhand has a wide-ranging road network covering the state. The state has an exceptional road connection with Delhi and many State Highways. They provide the linkage to tourist destinations and important places like Corbett National Park, Haridwar and Rishikesh. Regular bus shuttle services (private, deluxe, state or otherwise) are available for journey to Uttarakhand.
By Rail
Rail network is also quite very convenient in Uttarakhand. The key Railway Stations in the state are Dehradun, Haridwar and Kathgodam. Many super-fast express and passenger (local) trains connect these locations with cities in other parts of India. However due to difficult terrain of the hilly Uttaranchal, it is not possible to extend the railway services to interior and remote locales.