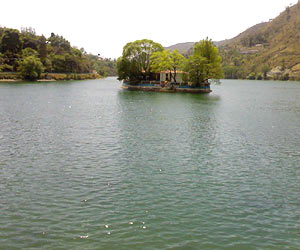 Bhimtal is a small town situated in the Nainital district of Uttarakhand. It is named after Bhim, one of the five Pandavas mentioned in the Hindu-epic Mahabharata. Due to its historical links and various interesting tourist spots located within its vicinity, Bhimtal forms one of the famous tourist destinations in Uttarakhand, today. It is situated about 22 km away from Nainital and 11 km away from Bhowali, at an altitude of 1370 meters.
The most prominent attraction in Bhimtal is the 'Bhimtal Lake', which is larger than the famous Naini Lake (of Nainital). A perennial lake, it offers boating opportunity to the tourists. The most striking feature of the lake is an 'island', situated right in the middle, boasting of a restaurant on it. Bhimtal is also famous for its ancient Bhimeshwara Temple, located on the banks of Bhimtal Lake and dedicated to Lord Shiva.
It is said that Bhim, one of the Pandava brothers, constructed the temple in the ancient times. However the temple was reconstructed in 17th century, by Baz Bahadur, a king of Chand dynasty. Near the Bhimeshwara temple is a small hill, called Garg Parvat, which is the source of river 'Gargi'. Another famous spot in Bhimtal is the hill of Karkotaka. It is known for its 'Nag temple', visited by devotees on Rishi Panchami, to seek blessings of 'Nag Karkota Maharaj'.
About 5 km from Bhimtal is a small hill, known as "Hidimba Parvat", named after Bhim's demon wife 'Hidimba'. Today, the hill houses a beautiful wildlife sanctuary, known as 'Vankhandi Ashram'. Within a range of 2 km from Bhimtal, there is a small natural lake called Nal-Damyanti Tal. Locals consider this place to be sacred and holy. Apart from that, the lake is also known for being a popular picnic spot.