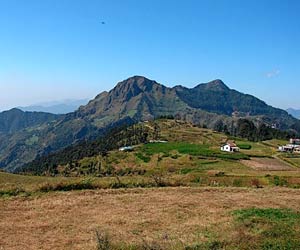 Dhanaulti , amidst thick forests of oak, deodar, pine and rhododendron, is a perfect destination to retreat from the maddening crowds of big cities. Nestled in Garhwal Himalayas, Dhanaulti is a treat to the soul that seeks serenity and tranquility.
Situated at an elevation of 2, 286 meters above the sea level, Dhanaulti lies almost midway on Mussourie-Chamba route. It is well connected by road from major cities like Delhi (325km) and Dehradun (60km). Nearest railhead is at Dehradun while Jolly Grant (82km) is the nearest airport.
There is a lot that one can do in the pristine locale of Dhanaulti . Dhanaulti is blessed with abundant natural wealth. It offers breathtaking views of snow clad higher Himalayas.
Dhanaulti is not like any other commercialized hill station of India. It is away from noise and crowd of usual hill destinations. There are a number of beautiful fruit orchards in and around Dhanaulti that one can visit either trekking or on horse back.
Dhanaulti though, hasn't got any high end hotels and restaurants; one can be rest assured of a comfortable stay at some of the rest houses like GMVN's Tourist Bungalow and the Forest Rest House of Uttarakhand Forest Department.
Besides the orchards and spellbinding view of snow clad Himalayan peaks, day trips to places like Surkhanda Devi Temple and Chamba are sure to make for an unforgettable experience.
Dhanaulti can be visited all through the year; however, monsoon season must be avoided as one can be marooned due to occasional land slides in this area during heavy rains.
Winters in Dhanaulti are severe when the entire place is clothed in sheets of snow. Heavy woolens are recommended for those visiting Dhanaulti during winter months. In summers, temperatures can rise to about 31 degrees C while drop to about 7 degrees C. Light woolens are recommended for those visiting during this season of the year.
Surkhanda Devi Temple
Situated at an altitude of about 3000 meters above the sea level, this temple is dedicated to Goddess Parvati. Surkhanda Devi temple is one of the most revered temples of this region. It is believed that after Goddess Parvati became a sati, her head fell at this location where the temple stands today.
Sukhanda Devi is about 10 Km from Dhanaulti . One has to trek 2 Km to reach the top of the mountain where the temple is located. This location offers a breathtaking 180 degree view of higher Himalayan peaks.
How to Reach
By road, Dhanaulti is well connected with Mussoorie (25km), Dehradun (60km), Chamba (29km) and Delhi (325km). Nearest railhead is at Dehradun and nearest airport is Jolly Grant (82km)