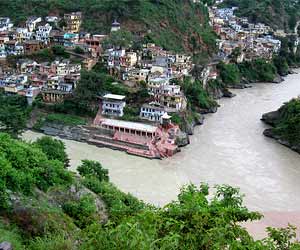 Tehri Garhwal is a quaint but beautiful little hill district in Uttarakhand. There are many (mainly natural) sightseeing places in and around Tehri Garhwal like Nagtibba, Kempty Falls, Devprayag and Khatling Glacier. One can also visit ancient holy temples like Surkanda Devi, Buda Kedar Temple, Sem-Mukhem temple and Chandrabadani temple. Read ahead to know more about the tourist attractions in Tehri Garhwal.
Devprayag
Devprayag is known for basically two things, the confluence of Rivers Alaknanda and Bhagirathi and the 10,000 year old, uncemented stone temple of Sri Raghunathji. Both these places are extremely sacred and are visited by a large number of pilgrims every year.
Chandrabadani
Chandrabadani is a well known Shakti Peeth of Goddess Durga. It is said that when Lord Shiva was carrying her dead body to Mount Kailasa, Ma Durga's torso fell down here.
Dhanaulti
Dhanaulti is a very convenient mid point between Mussoorie and Chamba, with just is 24 kms from Mussoorie and 29 Kms from Chamba. Dhanaulti is enveloped with impenetrable and lush green forests of Deodar, Rhododendron and Oak. The place is very relaxing and serene.
Chamba
Chamba is small hill town, about 67 Km from Mussoorie, located in Tehri district of Uttarakhand. It is situated at an altitude of 1676 m. It is an unexplored, unscathed, serene destination, approximately 60 km from Mussoorie. It is an excellent place to relax, amidst the beautiful hills and snow-clad mountains. This place offers several scenic vistas of the snow clad ranges of the Himalayas and the beautiful views of river Bhagirathi. The place is famous for its beautiful orchards as well.
Buda Kedar Temple
Situated at the confluence of Bal Ganga and Dharma Ganga rivers, the Buda Kedar Temple is about 59 kms from Tehri Garhwal. It is allegedly the place where Duryodhana of the epic Mahabharata performed peace meeting for in his father's memory.
Kempty Falls
Only 15 kms from the tourist town of Mussoorie, Kempty Falls is one the largest and most beautiful waterfalls located in the charming valley of Tehri Garhwal. Many people like to take dip in the ice cold water after the arduous downward trek to reach it.
Nagtibba
This place is simply perfect for those who are interested in adventurous activities such as trekking and mountain climbing. One can witness a mind blowing and breathe taking view of the Himalayan mountains.