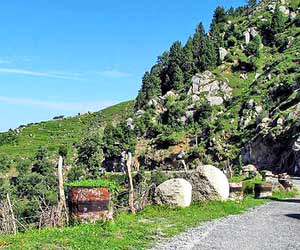 Chamba is a small hill town, situated at an altitude of 1676 m, in the Tehri district of Uttarakhand. It is an unexplored, unscathed, serene destination, approximately 60 km from Mussoorie. Away from the crowd and rush of the cities, it is an excellent place to unwind and have fun, amidst the beautiful hills and snow-clad mountains. The place offers several picturesque sites and scenic vistas ranging from the snow clad ranges of Himalayas to the wonderful, yet awe-inspiring sights of the verdant ravines and the beautiful views of river Bhagirathi - all of them a delight to one's eyes.
The beautiful, un-spoilt forests of Chamba, with pine, deodar and apple trees, are undoubtedly captivating. Due to its rich cultural background, the town has enclosed with in itself the beauty of several mores and ethnicity, still unexplored by the world beyond its boundaries. Due to its strategic location, as the entry point to inner Himalayas, and common boundaries with Uttarkashi, Chamoli, Pauri, Rudraprayag, this place is certainly going to become one of the most popular tourist spot of Uttarakhand in future.
Mussoorie
If you want to move to a popular, crowded place around Chamba, Mussoorie is merely at a distance of 55 km. The most popular hill resort of Uttarakhand, it is home to some of the most picturesque views, apart from a great shopping market.
Rishikesh
Rishikesh, one of the most sacred cities in the Himalayas, is merely 60 km from Chamba. Be it viewing of natural beauty, gushing down the Ganges in a raft or taking a yoga courses, it will provide you with numerous options.
Tourist Attractions of Chamba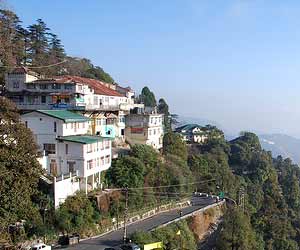 Though there is not much to explore in the small town of Chamba itself, the nearby excursions places are sure to fill your days with fun. Let us know more about them.
Surkanda Devi Temple
The sacred Shaktipeeth, "Surkanda Devi", is situated only 24 km from Chamba. Visited by a large number of devotees every year, it is surely an excursion you should undertake, when in Chamba.
New Tehri
The New Tehri town is credited with being the first planned hill town in India. It was established to rehabilitate the villages that were submerged due to the construction of Tehri Dam.
Tehri Dam
Tehri dam has been built on the union of river Bhagirathi and Bhilangana, giving birth to the marvellous Tehri Lake. The view of Tehri dam and lake is surely enthralling and surely worth a dekko.
Narendra Nagar
Merely 44 km from Chamba, the former capital of Tehri state, Narendra Nagar stands with its charming endeavor to attract tourists. It is an extremely beautiful town with magnificent scenic vistas. The popular palace of Maharaja Narendra Shah and the famous Anand Spa, a super luxury spa resort in the Himalayas, are also located nearby.