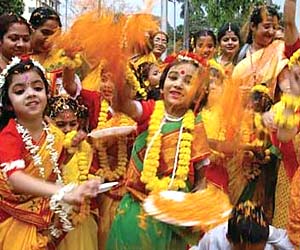 A festival not only gives a welcome break but also adds colors to our life. Basant Panchami is the festival celebrating spring season which comes accompanied by a huge variety of flowers presenting a riot of colors to the environment. Basant Panchami is also referred to as Sripanchami. Goddess Saraswati is worshipped all over India on the occasion of Basant Panchami. One is supposed to wear yellow cotton clothes, eat yellow food like Turmeric cooked with Rice or Saffron Semolina Pudding. People also put yellow tilaks on their foreheads to welcome the spring season.
The Dances and Fair
The people welcome spring or Basant singing and dancing. The atmosphere resounds with the jingles of the pounding drums. Chounphula and Jhumelia dances are performed on the occasion of Basant Panchami by them. A fair At Rishikesh in Uttaranchal is held within the grounds of the Bharat temple on the occasion of Vasant Panchami. An extremely grand procession of the idol of Lord Bharat is carried through the town demonstrating lots of pomp and splendor. This idol was installed in the temple on this day by Jagat Guru Shankaracharya.
Significance
The festival of Basant Panchami also marks the beginning of Holi Baithaks. Basant Panchami is celebrated according to the Hindu calendar in the month of Magh. It usually falls in late January or early February. People worship Goddess Saraswati, goddess of intelligence, wisdom and arts. They teach first words to their children and keep their books, notebooks, pens etc near the foot of Ma Saraswati's idol for her blessings. People fly kites and have various competitions for the same.