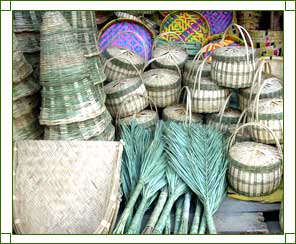 Bamboo and cane contribute a lot to the economy and lifestyle of the north-eastern state of Assam. This is mainly because of the fact that the hills and forests of the region have vast expanses of bamboos and canes and the natives, being excellent craftsmen that they are, have learnt to use them for a wide range of purpose in their everyday life. The bamboo and cane crafts of Assam are popular in other parts of the country as well. As such, there is tremendous potential for this industry to flourish and occupy an important place in national and international markets.
A majority of the items used by the Assamese people in their day-to-day life are made of bamboo and cane. Right from furniture and roof tiles to common household, articles like baskets, beer mugs and sieves, a large number of items are made out of them. One of the most important products of bamboo is Japi, a traditional sunshade of Assam. It is made from strips of bamboo and tokow paat (dried palm leaves). Used mainly by the open-air workers, like the farmers, nowadays the japis are also used as decorative items in the drawing rooms of the natives as well as souvenirs by the tourists.
Another important Assamese handicraft made of bamboo is the basket. Available in a variety of patterns and shapes, bamboo baskets are used for storing and carrying different items, like rice, paddy, and betel nuts. Depending on the size of the baskets, names have been assigned to them. The bigger ones are called Duli or Tali, while the small ones are called Khorahi. There is another variety of baskets called Tukuri, which is much smaller than the Duli and mainly used to carry rice, paddy etc. These bamboo baskets are generally made by the men of the family.
Besides these, other objects that are made from bamboo and cane are fishing traps and other fishing apparatus, like jakoi, khaloi, pollo and juluki, apart from a variety of musical instruments, domestic furniture, walking sticks, hand fans, floor mats, toys, umbrella handles and even tea trays. In rural areas, bamboo is also used to treat various illnesses like hypertension, diabetes and ulcers as folk medicine. In other words, we can say that bamboo and cane are used in almost every aspect of the Assamese life. The State Government Emporia are trying to promote these crafts outside the state as well.