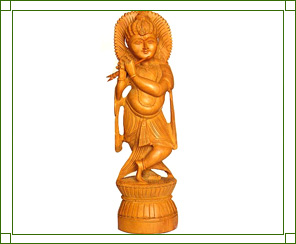 A reference to the traditional art and craft of Assam, without mentioning the exquisite woodwork found there, would be as good as incomplete. So vast is the woodcraft industry in Assam that a separate group of people called khonikors is there to carry out this delicate task. The success of this industry depends mainly on the raw material, timber, which is found in abundance in the state. The forests of Assam have a rare collection of valuable woods, like sandalwood, salmani, agaru, vata, etc. This has greatly facilitated the growth of Assamese woodcraft industry.
In Assam, wood is used to make a wide range of products. A number of items for daily domestic use are carved out of wood. This includes stools, chairs, tables, dolah or palki, walking stick, and kharams (wooden sandals), which might be engraved with the images of animals, birds and fishes. Besides this, exquisite carvings can also be seen in the decorative panels, doors and walls of the houses. In ancient times, the royal palaces of the Ahoms (rulers) were hand decorated by Khonikars. Their work was so much appreciated and encouraged by the royals that a separate village, called Khonikargaon, was constructed for them, near Sibsagar.
A testimony of the artistic creations of the Khonikars can be seen in the numerous Namghars or Kirtanghars (prayer houses) and satras (Vaishnavite monasteries) of Assam. One of the most important wooden articles seen inside a Namghar is the singhashan (throne), located at the extreme end of the house. Apart from this, the doors, walls and ceilings of the temple are engraved with mythical figures, like hanuman, nagar, ananta and garoor. Such is the beauty and splendor of the wood products here that the tourists and onlookers are often left awe-struck and amazed. Nowadays, wood products are also available in the market, as souvenirs for tourists.