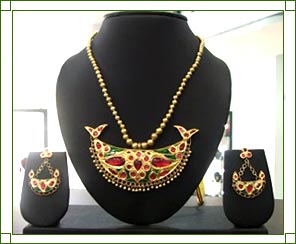 Assam has a rich collection of traditional jewelry, which is unique and exclusive to the state. These jewelries hold a special place in the heart of the Assamese women and are worn during the cultural and religious events. Jorhat, the second biggest city of Assam, is the main jewelry making centre of the state. Thousands of natives and tourists come here every day to purchase in the numerous outlets in this region. The district also has a number of small scale and cottage industries wherein skilled jewelry makers work to promote this art.
The most famous ornaments of Assam are those made of gold. Gold washing and jewelry manufacture has been an important industry in the state from a long time. The metal was abundantly found in a number of Himalayan Rivers flowing throughout the state. A special tribe of people called Sonowal Kacharis was particularly involved in gold washing the various rivers. During the reigns of the Ahom kings, this task was done on an elaborate scale. In fact, the state received a good income from the yearly tax levied on gold washing. Apart from gold, other metals like silver were also used in the conventional jewelry making.
The traditional ornaments of Assam include Doog-dogi, Kerumoni, Thuriya, Gam- kharu, Muthi- kharu, Jonbiri, Dholbiri, Loka- paro, Bana, Gal- pata and Keru. All these pieces are unique in design and pattern. Gam- kharu is a large bracelet made of silver or gold with a clasp. Loka- paro is an earring embellished with twin birds, placed one after the other. This may be in gold, ruby, mina, or even plain enamel coating. Jethi pota is a wide band of cloth placed as a row of small medallions, with a central pendant. There is a special type of earring, resembling the orchid 'kopou phool'. The exquisite design and shimmer of these ornaments truly captivates the attention of the onlookers.