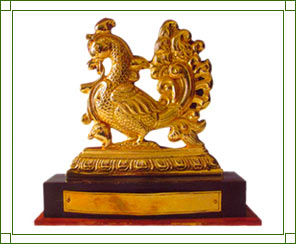 Metal craft comprises of one of the oldest cottage industries of Assam. These products are famous all over India and can be found in almost every Assamese household. Famed for their unique artistic skills, the local artists and craftsmen of the state are mainly involved in designing brass and bell metal utensils. Apart from these two metals, gold, silver and copper can also be used to make different handicrafts in Assam. However, gold and silver products were mainly used during the days of royalty, i.e. the reigns of the Ahoms kings, but now they are used only in making jewelry. However, a rich collection of such products is still found in the State Museum at Guwahati.
Due to the durability and utility nature of brass and bell metal, items made from them are very popular among the natives. A range of domestic items are made from bell metal, like kahi (plate), bati (bowl), ban, bota, lota, sarai, charka, safura, malhang and ashana. Besides this, Xorai and Bota are used in almost every Assamese household, to offer paan (stuffed betel leaves) to guests, to welcome them. The Xorai is, in fact, the traditional symbol of the state. They were originally made from bell metal but now, brass and silver are also used in making them. A great benefit of keeping food in bell metal utensils is that the food does not get spoiled for a long period of time.
Brass forms an important cottage industry in the Hajo region of Kamrup district, whereas bell metal products are famous in the Sarthebari region of the same district. These two are the major production centers of the state. Besides these, production centers are also located in the Titabari and Raha regions. Assamese metal handicrafts are not only available to the local people, but can also be purchased as souvenirs by tourists. In a bid to compete with changing times and demands, modern day artisans have used their innovative skills to introduce new designs and patterns to the traditional metal craft of Assam, including the ones that can be used as decoration pieces.