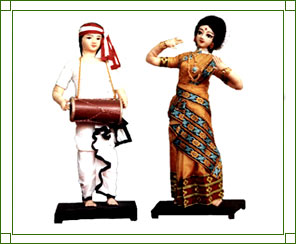 Toys speak a lot about the culture and tradition of a place. They depict the lifestyle and the way of living of the people residing there. So much can be known about the heritage and customs of a given place through toys that mentioning them becomes inevitable when one speaks about the art and craft of a particular region. Every region in India has its own unique style of toy making, but the way in which toys are made in Assam surpasses them all. The skilled craftsmen of the region use very few tools to produce some of the best toy specimens.
Based on the raw materials used, Assamese Toys can be classified into four types - clay toys, pith toys, wooden toys, and cloth or cloth-mud toys. Clay toys are mainly made in the Goalpara region of Assam and have the characteristic pinched facial rendering of the mother and the child. Besides these, figures of gods, goddesses, and animals are also used by the traditional toy makers. The traditional clay toys in Assam are made by the Hira and Kumar communities. Most of these toys are in the figures of dolls, depicting brides and grooms.
Goalpara region is also famous for the cork or pith toys. In this case, mostly figures of birds dominate the overall output, but animal figures and forms of gods and goddesses are used as well. Another material, from which toys are carved in the state, is wood. Wood and bamboo have been used for toy making for a long time. These toys are generally used for puppet shows and come in a variety of figures, like birds, animals, and even human forms. The toys made of cloth, or a mixture of cloth and mud, have also become a part of the Assamese toy making culture.
Great importance is attached to the Assamese toys made from cloth, so much that it is almost mandatory for every Assamese girl to learn the craft of making cloth toys and the skill is then passed down from one generation to the other. These toys are also used for puppet shows and the common theme used is the human figure, especially brides and grooms. Toys are important for the cultural growth of a region. They are like torches that guide children into adult life and into the myths and mysteries of their culture. The toy craft of Assam keeps the tradition alive.