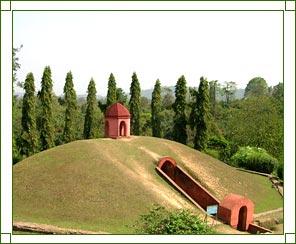 Location:
28 km from Sibsagar town, off the Sibsagar-Simaluguri road
Built By:
King Sukapha of the Ahom Dynasty
Built In:
1253 A.D
Highlights:
First capital of the Ahom Kingdom
Amazed and awestruck, this is the reaction of the most of the people while looking at the 42 tombs of the Ahom kings and queens, in the Charaideo hillocks of Assam. The excellent architectural skills and craftsmanship of the masons and architects of medieval Assam are revealed in the numerous pillars and burial sites of this historical place. Established in the year 1253, Charaideo was the first capital of the Ahom kings, built by King Sukapha, the founder of the Ahom Dynasty in Assam. Although the capital of the dynasty was shifted several times after this, Charaideo still remained the symbolic capital and center.
Located at the foothills of Nagaland, about 28 km from the town of Sibsagar, the hillocks of Charaideo were regarded as a sacred and revered place by the people of the Ahom Dynasty. This was the burial ground of the kings and members of the royal family. The innumerous vaults or maidams present here have an uncanny resemblance with the pyramids of Egypt and were believed to be the abode of the ancestral gods of the Ahoms. Over the hillocks, one can still see the stone pillars or deosal and mounds of the royal families, but most of them are in ruins now. Still, one cannot help but notice the architectural majesty and brilliance of these burial places.
Made of stones and bricks, most of the tombs in Charaideo are in ruins, but till today, this place is the best example of the superb skills of the architects and craftsmen of the Ahom Dynasty in particular and Assam in general. Even today, historians and researchers visit Charaideo, to study the golden past of this former capital of the Ahom Kingdom. There have also been proposals to the UNESCO, for declaring the place as a World Heritage Site. The most recent attraction in the place is the Su-Ka-Pha Park, set up by the well-known NGO, Probah. This park was opened on 30th January 2009 and offers all-round amusement facilities for children.