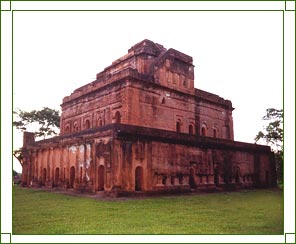 Location:
Rangpur, east of Sibsagar town
Built By:
Ahom King Rudra Singha
Highlights:
Largest monument made by the Ahom Kings
History has it that Rangpur, one of the former capitals of the Ahom Kingdom, was founded by the Ahom ruler of the 17th century Swargeo Rudra Singha. He then constructed a palace in the city, from wood and such other locally available materials. Later, his successor Rajeswara Singha added some more stories to the palace, making it a seven-storied edifice. The upper four stories are known as Kareng Ghar, while the three underground floors are collectively called Talatal Ghar. Even today, the seven storied palace stands proud and tall in the Sibsagar district of Assam.
The palace was initially built for the purpose of serving as a military base for the Ahom kings. Apart from Kareng Ghar and Talatal Ghar, it has two underground tunnels as well; connecting Talatal Ghar and the Gargaon Palace with the Dikhow River. It was used as an emergency exit during wars. This section was later blocked by the East India Company. The entire palace, with its various rooms, is interconnected by tiny passages. Built within the palace are an octagonal-shaped temple, three large chambers, a guard room and a hall with a huge courtyard having separate entrances.
In present times, tourists and visitors can only view the ground floor and certain sections of the upper floors. The underground stories have been completely sealed off. However, during recent excavations, remains of burnt wooden logs, post holes, brick structures and pathways on the northern and western sides of the palace were found at the palace, indicating the use of these structures in the construction of the original building. Besides this, there was also an earthen fort and a brick fortification surrounding the palace, excavated later on.
Bartops (guns) have been found to be preserved in the Talatal Ghar of the palace. In fact, there was a whole storehouse of gunpowder and ammunition (Khar Ghar) situated in a corner of the palace. This ancient palace of the 17th century, today, serves as a great attraction among tourists and researchers from every corner of the world, mainly for its magnificent architectural structure and patterns. Indeed, a visit to this palace is a must if you want to know more about the rich cultural heritage of Assam.