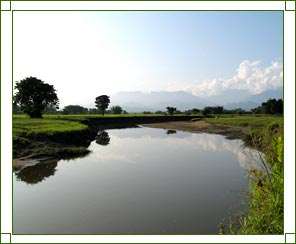 Sibsagar, like the rest of Assam, has a humid subtropical climate. Located at an elevation of 95 meters, or 311 feet, the town has its climatic year divided into 3 major seasons - summer, monsoon, and winter. The weather, for most part of the year, remains mild and temperate. The high humidity prevalent especially during the summer season is cooled down by the occasional showers, which continue till the start of the autumn season. A typical feature seen in the weather of Sibsagar (and that of Assam in general) is the occurrence of thunderstorms, known as Bordoicella, during the months of March, April and May. Read on to get more information on the weather and climate of Sibsagar.
Summer
Summer season starts from the month of March and continues till June. It is very hot and humid in Sibsagar, during this time of the year and the average temperature ranges from 15
o
C to 28
o
C. The maximum recorded temperature in this town when summer reaches its peak is around 35
o
C. However, due to the frequent rains, the prevalence of the extremely hot weather is prevented.
Monsoon
The summer season in Sibsagar gives rise to monsoon i.e. the rainy season, which lasts from June and lasts till August-September. During this time, the entire town gets covered in a cloak of greenery. After the rainy season, autumn starts in Sibsagar, from the month of October.
Winter
Autumn is followed by the winters, which start from the month of November and continues till the middle of February. During this time, the weather is generally cool and dry, with scanty rainfall. Light woolen clothes are generally comfortable for this kind of weather, whereas cotton clothes are favored for summers.