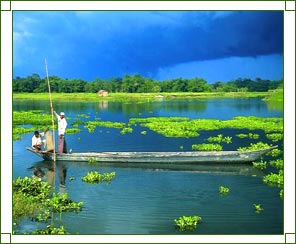 Sibsagar is well known place in Assam, which is renowned for its numerous historic monuments and forts. In addition to the tourists attractions within the town, there are a number of excursions at a short distance from the place, which are definitely worth a visit. In fact, without including them in your itinerary, your trip to Sibsagar will be as good as incomplete. Just go through the following lines to get detailed information on the tourist places near Sibsagar.
Excursions from Sibsagar
Jorhat
Jorhat is often referred to as the Cultural Capital of Assam. It was originally formed by two markets or hats (Chowkihat and Macharhat), on the eastern and western banks of the river Bhogdoi. The place is one of the fastest growing cosmopolitan towns, having the highest number of educated residents in the state. The city of Jorhat was the last capital of the Ahom Dynasty.
Majuli Island
Majuli is the biggest freshwater river island in the world, covering a total area of 650 sq. km. It is a subdivision of the Jorhat district of Assam and has a population of about 1.6 lakh. The island is formed by the Brahmaputra River in the south and by the Subansiri and Kherkutia Xuti Rivers in the north. Majuli is the home of the Neo-Vaishnavite culture of the state and has often been called the cultural capital of Assam.
Dibrugarh
Dibrugarh is a major gateway of Upper Assam and is an important commercial centre of the state. It serves as the headquarters of the Dibrugarh district, Assam and is very often referred to as the 'Tea City of India', as it accounts for a major share of the total tea production of the country. The city derives its name from Dibarumukh, which means from the 'mouth (mukh) of the river Dibaru or Dibru'.
Nambar Forest Reserve
Nambar Forest Reserve is located at a distance of 60 km from the Jorhat town and attracts thousands of tourists and visitors every year. The reserve is especially famous for a rejuvenating hot spring, apart from the wide variety of wildlife as well as flora that it offers to the visitors.